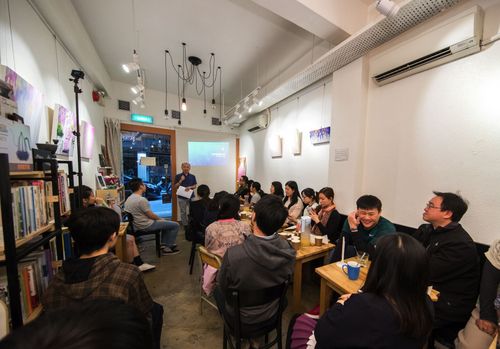 The lecture "The World is a Heterotopia: When Philosophy Meets Art" explored the theme of this year's MAF, "Heterotopia".
Organised by the Cultural Affairs Bureau, the 28thMacao Arts Festival (MAF) presents a number of extraordinary programmes as well as various outreach activities, allowing the residents to experience different forms of arts.
Several MAF outreach activities have already been successfully held and were well-received by the public. "One Day! Cantonese Opera", passed on the artistic essence of tradition, allowing participants to interact with young actors and put into practice their Cantonese opera techniques by trying the makeup and wearing costumes to experience the essence of Cantonese opera. Hong Kong speaker Kengo hosted the lecture "The Untold Secrets of Japan – Kengo's Talk on Japanese Culture", unveiling crazy and bizarre secrets about Japan. The lecture attracted over a hundred participants. In the lecture "The World is a Heterotopia: When Philosophy Meets Art", scholars from Hong Kong and Macao explored the in-depth significance behind the theme of this year's MAF. It received an active response from the audience and was held in a lively atmosphere.
In addition, more excellent activities will be launched successively. The screening of the movie "The Danish Girl", originally scheduled for 26 May, will be moved from Pek Tai Temple Square in Taipa to Wong Ieng Kuan Library in Taipa. "Meet-the-Artist: Hiroaki Umeda on Creation and Body Aesthetics", to be held on 21 May, invites famous Japanese choreographer Hiroaki Umeda to share his unique insights on the human body, technology, performing arts and aesthetics of multimedia. On the same day, the "MAF Free Talk" invites art critics from all over the world to share their observations and expectations on the Macao Arts Festival, as well as their analysis of this year's programmes. On 5 May, the screening of the movie "My Way" provides arts accessibility services, allowing people with visual and hearing impairments to enjoy arts without barriers.
The MAF Outreach Programme offers many other activities. Most activities have free admission. Vacancies are limited and subject to availability. For more information, please refer to the 28thMAF Outreach Programme booklet or visit the Festival's webpage at www.icm.gov.mo/fam. Reservations are available online through www.icm.gov.mo/eform/event, or by phone. For more information and reservations, please call IC through tel. 8399 6699, during office hours.
View gallery