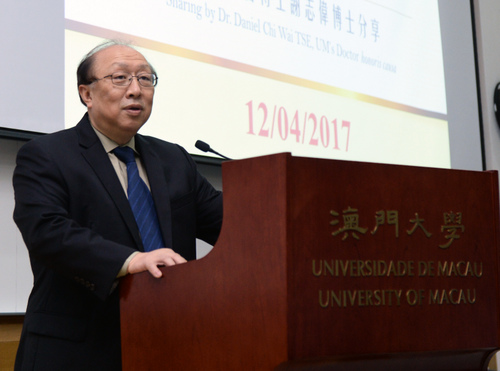 Rector Wei Zhao
The University of Macau (UM) today (12 April) held a Doctor honoris causaLecture titled 'A Stroke of Serendipity: How I Came to Join the Cause for the Advancement of Chinese Medicine'. Tse Chi Wai, UM's honorary doctor and a renowned educator, was the keynote speaker. The lecture attracted a full-house audience.
Rector Wei Zhao delivered a welcome speech at the lecture. 'The new campus and the new systems we have now are to a large extent a result of Dr Tse's hard work,' said Rector Zhao. 'From the search of an ideal location for the new campus to the reform of managerial systems, Dr Tse has played an instrumental role.' Rector Zhao added that before Traditional Chinese Medicine achieved academic respectability, Dr Tse made the bold decision to launch an academic programme in the subject at Hong Kong Baptist University, which shows that he is a true leader ahead of his time.
Dr Tse shared with the audience how as an educator he came to join the cause for the advancement of Chinese medicine. He described the process as full of challenges, adding that his main role is to remove the various obstacles for researchers. He has been actively promoting the development of Chinese medicine through various means, including opening academic programmes in Chinese medicine, lobbying for funding, seeking collaborations with Chinese medical schools in mainland China, and participating in the establishment of the state key laboratory in Chinese medicine at UM.
UM's Vice Rector (Academic Affairs) Lionel Ni chaired the Q&A session. When asked by a student about the key ingredients for success, Dr Tse said that joining the cause for the advance of Chinese medicine was just a stroke of serendipity, but it took 22 years of hard work to achieve what he has achieved today. He advised the students to never compromise principles and social justice when faced with difficulties.
View gallery