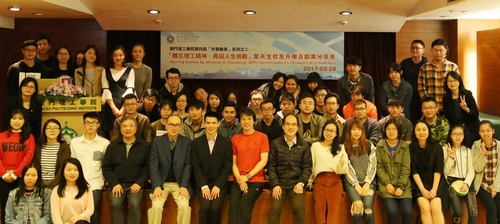 Students and teachers taking photos with Alumnus Ye Tiansheng
Macao Polytechnic Institute held a "Sharing Session by Alumnus Ye Tiansheng: MPI's Spirit Guides Us Through Life's Challenges", in which the alumnus from the Bachelor of E-Commerce Programme Mr. Ye Tiansheng was invited to share with MPI students his experience of further study in the United States of America and of being an entrepreneur, and especially to convey a positive message to his junior classmates and to encourage them to follow their dreams. The sharing session attracted nearly 100 students and academic staff members to attend.
Alumnus Ye Tiansheng mentioned in his sharing that during the four years of study in MPI, he acquired professional knowledge and international horizons. These helped him to adapt easily to the study environment in the United States and he successfully completed the master's degree programme in the world's top computer professional postgraduate school, Carnegie Mellon University. After graduation, Tiansheng worked at Morgan Stanley's headquarters in New York and received a high degree of recognition among colleagues and superiors. Three years later, he returned to China to start his business, which has developed from a small start up team with only three employees to about 30 employees now. Tiansheng expressed his gratitude towards his alma mater upon his success in life and encouraged his junior classmates to enjoy campus life, plan their life objectives, and have good time management and career planning.
In 2010, alumnus Ye Tiansheng graduated with a Bachelor of E-Commerce from MPI. In 2012, after obtaining his master's degree from Carnegie Mellon University in the United States of America, Mr. Ye began his career as a software engineer at Morgan Stanley's headquarters in New York. Now Mr. Ye is a partner and the chief operation officer of a technology company in Beijing (北京松鼠山科技有限公司). As an appreciative gesture to his alma mater for nurturing him, Mr. Ye created a scholarship in 2012 for the students of MPI in order to encourage and finance them to further study in United States.
Students who attended the sharing session said that the sharing by alumnus Ye was encouraging, it also enlightened them about their career planning and establishing their own business. Moreover, they got to know about furthering their studies in the United States. The organiser of the sharing session, the Student Affairs Office was glad to see that the session yielded fruitful results. It is going to launch activities of a similar kind so as to inspire more students.
View gallery