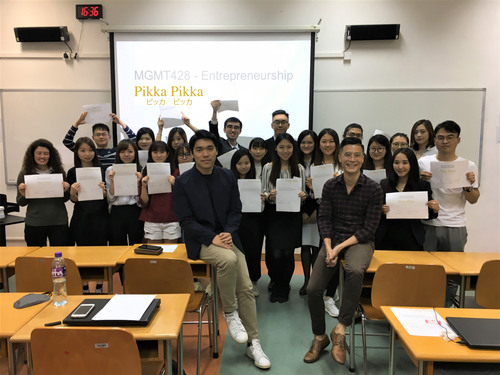 Students group photo
Students from the Institute for Tourism Studies undertaking the entrepreneurship course engaged in a consultancy project to serve Simon Kuong, a local entrepreneur who founded many businesses in the region. This year, the project focus was to help a product company called Pikka Pikka, offering a range of trendy and high-tech fabric products with over 1,000 points of sale in Taiwan, Hong Kong and Macao. The company is looking for new opportunities for new product development and therefore students engaged in industry and market research to identify opportunities. Towards the end of the project, students prepared a research report leading to the proposition of new product development with marketing mix strategies.
The course leader, Dr Fernando Lourenço and Simon Kuong were very pleased with the result because viable business ideas were identified to stimulate new product development for Pikka Pikka. This project is a great example of the quality of teaching we provide at IFT. It is ensured that students have the ability to apply their learning into practice and to provide a safe environmental for students to experiment as well as experience the real world.
View gallery