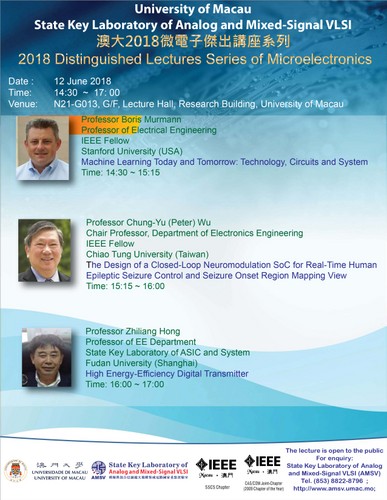 UM will hold three distinguished lectures on microelectronics next Tuesday.
The 2018 Distinguished Lecture Series on Microelectronics, organised by the University of Macau (UM) State Key Laboratory of Analog and Mixed-Signal VLSI, will be held on Tuesday 12 June. Three world-renowned experts on microelectronics will give keynote speeches in which they will share with the audience state-of-the-art technologies and design techniques related to microelectronic circuits. All are welcome.
The three experts are Boris Murmann, former chair of the Technical Programme Committee of the International Solid-State Circuits Conference of the Institute of Electrical and Electronics Engineers (IEEE); Prof Peter Wu Chung-Yu from Chiao Tung University in Taiwan; and Prof Hong Zhiliang from Fudan University. They are all members of the Academic Committee of the state key lab, and two of them are IEEE fellows. They will give lectures titled 'Mixed-Signal Techniques for Embedded Machine Learning Systems', 'The Design of a Closed-Loop Neuromodulation SoC for Real-Time Human Epileptic Seizure Control and Seizure Onset Region Mapping', and 'High Energy-Efficiency Digital Transmitter', respectively.
The event will be held on Tuesday 12 June, in G013 Lecture Hall, N21 Building, UM, starting at 2:30pm. It will be conducted in English. For more information, please visit http://www.amsv.umac.mo. For enquiries, please contact Ms Jenny Sou at 8822 8035 or amsv.enquiry@umac.mo
View gallery