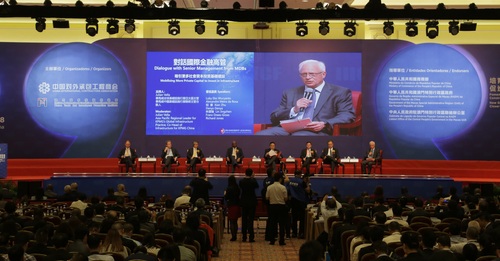 "International Financial Executive Dialogue: Attracting More Social Capital to Invest in Infrastructure" is held today (7 June)
On the first day (7 June) of 9th International Infrastructure Investment and Construction Forum, the "International Financial Executive Dialogue: Attracting More Social Capital to Invest in Infrastructure" was held and attracted representatives from the financial and infrastructure sectors and peripheral industry chains from all over the world to discuss hot topics, such as how to attract social capital investment to fill the huge funding gap in international infrastructure, as well as the collaborative construction of healthier social capital investment and financing mechanisms, so as to promote the development of infrastructure.
The speakers at this thematic forum were Luky Eko Wuryanto, Vice President and Chief Executive Officer of Asian Infrastructure Investment Bank (AIIB), Alexandre Meira da Rosa, Vice President (of country affairs) of Inter-American Development Bank (IDB), Zhu Xian, Vice President and Chief Operating Officer of New Development Bank BRICS, Denys Denya, Executive Vice President of African Import and Export Bank, Lin Jingzhen, Vice President of Bank of China, Franz Drees-Gross, Director of the World Bank's Transport & ICT Global Practice, as well as Richard Jones, AIIB-EBRD Business Development Director at European Bank for Reconstruction and Development. Julian Vella, Asia Pacific Regional Leader for KPMG's Global Infrastructure Practice cum Co-Head of China Infrastructure KPMG in China, served as the moderator of the session.
Actively Build a Sound Investment Environment
Luky Eko Wuryanto noted that inadequate infrastructure investment may pose a major obstacle to sustainable economic growth in emerging markets and developing countries (EMDC). Projects such as railway, highway, port, energy and telecommunication involve intensive capital, with long investment time and return on investment easy to fluctuate. The instability of policies, regulations and market environments in some countries make private capital unwilling to participate in infrastructure construction. Therefore, he opined that differentiated strategies should be applied to deal with the financing bottlenecks occurring in different types of infrastructure projects. For example, commercially viable projects can increase private capital by introducing PPP, and for projects with large social benefits but inadequate financial returns, the government should provide some public financial support as leverage to attract participation from the private sectors. Richard Jones agreed that changes in the policy environment are the key to participation of private capital in infrastructure investment, while providing investment opportunities for private capital, the international business environment and government agencies of all countries should protect themselves from investment risks.
Multilateral Development Banks May Serve as Capital Bridge
Several speakers mentioned that multilateral development banks play an important role in providing advice to private capital due to investors' lack of knowledge of policies, market environment or investment knowledge of all countries. Franz Drees-Gross noted that multilateral development banks may provide investors with more investment options and remove obstacles and solve difficulties from the perspective of investors.
View gallery