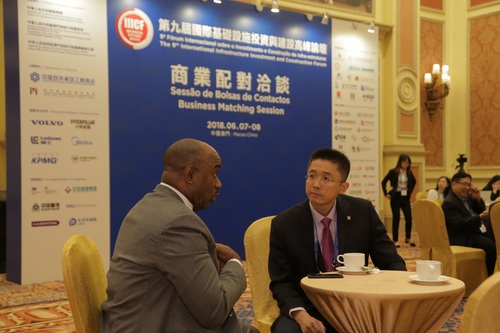 Business meetings among enterprises at the Forum
The 9th International Infrastructure Investment and Construction Forum (IIICF) was successfully concluded today (8 June). In addition to different forums, signing ceremony and business matching sessions, the 9th IIICF also set up exhibition area, nearly 60 booths, where 34 enterprises engaging in equipment manufacturing, design consultancy service, construction materials, engineering services and other related areas showcased their own specialties. Enterprises all acknowledged the result of participating in this forum, and some had even successfully seized the business opportunities to expand their businesses.
During the forum, China National Heavy Duty Truck Group Co., Ltd. and China Nonferrous Metal Industry's Foreign Engineering and Construction Co., Ltd. successfully signed the Strategic Cooperation Framework Agreement. Wei Qing, Deputy General Manager of Sinotruk (Hong Kong) International Investment Co. Ltd., said that this year marked the third time the company participated in this forum. He has been witnessing the progress of the forum, and considered the forum a great occasion for enterprise to look for partners and explore business opportunities as it brought together the upstream and downstream entities in the infrastructure sector and the peripheral industrial chains, including investors, contractors, supporting service providers and other organisations.
Vice President of LiuGong Machinery Co., Ltd. Luo Guobing, who attended the forum for the fifth time, spoke highly of the platform role the forum plays. He said that more than 1,800 people took part in the forum this year, including more than 50 government officials at or above ministerial level and a number of experts and corporate executives. The forum achieved the best results both in terms of the level of guest and the event scale. Meanwhile, through participating in the exchange meeting with Macao enterprises held today (8 June), he was able to deepen his understanding of the advantages of Macao enterprises, and would seek to co-operate with Macao enterprises in the future.
Zhang Yiqiang, representative of Ocean Shipping (Shanghai) Co., Ltd., participated in the forum for the second time and looked forward to exploring new areas of co-operation. He said he had exchanged views with the Iranian government during the IIICF and was informed that Iran would welcome investment from China-funded institutions. This allowed him to seize the business opportunities. Meanwhile, he also noted that Macao was making efforts to expedite the development of its featured finance industry, which well matched his business scope and service targets. He would discuss with relevant organisations after the forum to reach co-operation.
Zhao Fayi, representative of Midea, which previously signed a strategic co-operation agreement with contractors of the IIICF organiser, said that the air conditioning products produced by Midea were the best-sellers in infrastructure projects. He hoped to take this opportunity to discuss future development with guests from all over the world so as to introduce more business opportunities.
View gallery