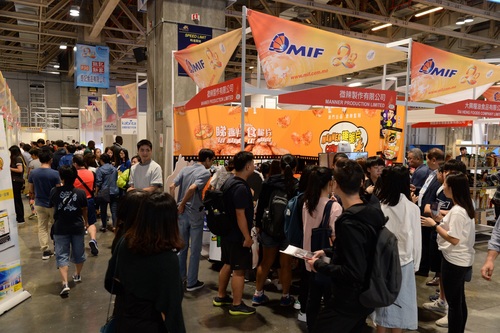 MIF – The annual mega exhibition in Macao
"The 23rd Macao International Trade and Investment Fair (23rd MIF)", organised by the Macao Trade and Investment Promotion Institute (IPIM) and co-organised by 15 economic and commercial authorities and trade associations from Macao, Mainland China and Hong Kong, will be held from 18 to 20 October 2018 at The Venetian Macao. The exhibition application period for local enterprises is from now (11 June) until 22 June.
This edition of MIF continues to feature the "Macao SME Pavilion", which is organised by IPIM in collaboration with the Macao Chamber of Commerce, and co-organised by the Macao Small and Medium Enterprises Association and the Macau Businesswomen Association. Around 100 booths will be set up at the "Macao SME Pavilion" to showcase products that are "Made in Macao", with "Macao Brands" or banded products distributed by Macao enterprises (priority will be given to products from Portuguese-speaking countries), which include souvenirs, food products, cultural and creative products, household items, electronic products, handcrafts/accessories, and many more. Exhibition subsidy scheme will be provided by the MIF organiser to offer support and incentives for local exhibitors. Moreover, in a bid to foster local youth innovative entrepreneurship, eligible youth enterprises can enjoy further concessions to promote their brands and product sales through on-site display. This will support Macao's youth innovative entrepreneurship and assist entrepreneurs in exploring prospective opportunities for business co-operation. For further details, please visit www.mif.com.mo/mif2018/download/.
A simplified administrative procedure will be introduced at this year's MIF to exempt the participating enterprises from submitting a number of application documents, including the copy of New Registration/Amendment Form (From M/1), copy of Business Tax Form(Form M/8), copy of Salaries Tax Form M3/M4, copy of Certificate of No Debt Arrears. This arrangement helps save time for applicants by freeing them from travelling between different governmental departments, and enhances service efficiency at the same time.
Application for the"Macao SME Pavilion" starts now until 22 June. Application can be submitted between Monday and Friday from 9:30 to 13:00 and from 14:30 to 17:30. The Exhibition Application Form can be downloaded from the website (www.mif.com.mo/mif2018/download/). Applicants can submit the completed registration form and the required documents (please refer to the Exhibition Information on the Form) in person at the MIF Administrative and Service Centre: 13th Floor-K, Nam Kwong Building, 223-225, Avenida do Dr. Rodrigo Rodrigues, Macao, or at IPIM: 4th Floor, World Trade Centre, 918, Avenida da Amizade, Macao. For enquiry, please contact the MIF Administrative and Service Centre at 853-2882 8711, or follow MIF's official WeChat account: MIFMacau.
View gallery