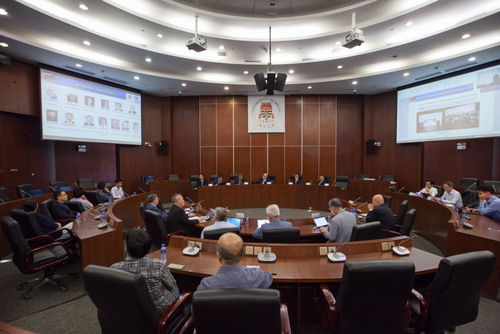 The third meeting of the AMS-VLSI Lab's Academic Committee
The Academic Committee of the University of Macau's (UM) State Key Laboratory of Analog and Mixed-Signal VLSI (AMS-VLSI Lab) today (11 June) held its third meeting in the Ho Yin Convention Centre at UM. The Academic Committee reviewed the current situation of the state key lab, highly praised the lab for heading in the right direction, and provided invaluable suggestions for the lab's future development and commercialisation of its research results.
Officiating guests at the opening ceremony included Ma Chi Ngai, president of the Administrative Committee of the Science and Technology Development Fund (FDCT) of the Macao SAR; Cheang Kun Wai, member of the Administrative Committee of the FDCT; Franco Maloberti, chairman of the Academic Committee of the AMS-VLSI Lab; and Rui Martins, vice rector (research) of UM and director of the AMS-VLSI Lab. Ma Chi Ngai presented certificates of appointment to the guests and exchanged ideas with them. Martins presented souvenirs to the guests. The souvenir is marked with 16 chips developed by the lab and presented at the International Solid-States Conference of the Institute of Electrical and Electronics Engineers (IEEE) between 2016 and 2018.
The meeting included presentation of the research team's findings, demonstration of experiments, a closed-door discussion, and review of reports. Martins reported the lab's progress since its founding in 2011 and its achievements between 2011 and 2017. He also gave an overview of the lab's current situation and disclosed plans for its future development. Academic Committee members suggested that when trying to expand the research team or commercialise the research results, the lab should proceed in an orderly manner and make sure that the research results and student quality meet international standards.
Academic Committee members include Prof Wang Zhihua from Tsinghua University, Prof Hong Zhiliang from Fudan University, Prof Chung-Yu Wu from Chiao Tung University in Taiwan, Prof Boris Murmann from Stanford University, and Prof Hoi-Jun Yoo from the Korea Advanced Institute of Science and Technology. Prof Liu Ming, a member of the Chinese Academy of Sciences, joined the meeting via video conference.
View gallery