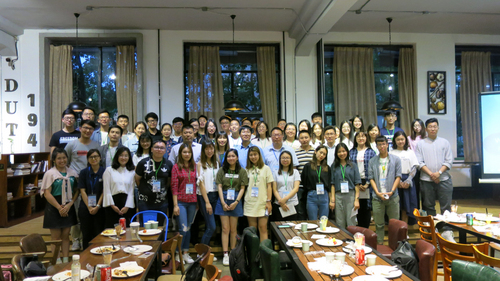 UM students with their counterparts from the Dalian University of Technology
The University of Macau (UM) Student Affairs Office recently organised an exchange trip for outstanding students, in response to the 'Youth Exchange Programme in the Mainland' launched by the Macao SAR government. The trip provided an opportunity for young adults in Macao to acquire an in-depth, comprehensive, and accurate understanding of China. It aimed to enhance the participants' sense of belonging to China, strengthen their national identity, and increase exchange and collaboration between young adults and universities in Macao and Dalian. This is the first time that a higher education institution in Macao has arranged for a large group of students to visit Dalian.
Li Yongxian, sub-director of the Department of Culture and Education of the Liaison Office of the Central People's Government in Macao SAR, was the consultant of the delegation. Samson Cheong Hok Sam, head of the Student Resources Section and special assistant to vice rector (academic affairs), was the captain. Grace Chau Kwai Chee, director of the Office of Sport Affairs, was the vice-captain. Student participants in this trip included members of the Students' Union, sports associations, Orange Post, and cultural and arts teams.
The trip covered moral and national education, introduction about Dalian's large-scale construction projects, visits to industrial and technology companies, Donggang Business District and local attractions in Dalian, as well as meetings with representatives of the Dalian University of Technology.
The itinerary of the exchange trip was planned by Dalian City Political Consultative. Members of the tour were accompanied by three officials from Dalian City Political Consultative Conference throughout the trip. During visits to the Dalian 365 Citizen Building, Dalian Shipbuilding Industry Co, Ltd, Kede Numerical Control Corporation, students were deeply impressed with the rapid development of the motherland and the 'Made in China' products. They also visited cultural heritages and attractions in Dalian.
Fung Ho Yin, vice director-general of the UMSU, who is also a third-year student from Lui Chi Woo College and the Faculty of Business Administration, says: 'It is important to organise moral and national education exchange trips for students so that they can have the opportunity to broaden their horizons and learn more about society.' He adds, 'The visit to Dalian Shipbuilding Industry Company made me see how great my country is because the company has high quality standards and that made me feel proud to be a Chinese."
Lao Hao I, a member of the UM Choir, who is also a second-year student from Stanley Ho East Asia College and the Faculty of Arts and Humanities, says: 'I learned about the sad past of this romantic city. While visiting Lushun Russo-Japanese Prison, I learned that many Chinese people in Dalian were brutally killed during that period. It made me understand how important it is to remember history.'
Cheong Hok Sam, captain of this exchange delegation, is thankful to members of the Chinese People's Political Consultative Conference in Dalian and the Liaison Office of the Central People's Government in the Macao SAR for their support. 'There are so many things Macao can learn from Dalian, as Dalian is the first open and modern city in north China,' says Cheong. 'During this exchange trip, UM students got to learn the history and various large-scale projects of China. The trip also helped us learn more about China's national defence, urban design, social service, and large-scale construction projects. We also visited universities and cultural attractions. For example, we visited Dalian Shipbuilding Industry Company and saw the made-in-China aircraft carrier, which made us feel very proud to be Chinese.' The Student Affairs Office will continue to hold more similar activities in the future as part of its effort to support the Macao SAR government's policies.'
View gallery