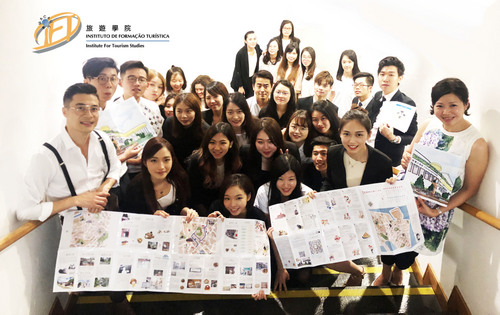 Map design for hotel by IFT students
Students from the Tourism Retail and Marketing Management at the Institute for Tourism Studies engaged in a consultancy project to serve the Pousada de Mong-Há (Educational Hotel of IFT) in Macao SAR, China. The course leader, Dr. Fernando Lourenço led students to incorporate the idea of community-based tourism to create new values for hotel guests. The aim of the project was to develop a map to guide hotel guests to explore the community around the location of the hotel. In order to do this, students researched the community and produced a database with information of all the businesses in the area, public facilities, traditions and heritage, and events. Subsequently, students developed and produced many innovative concepts for a new map. The outcomes from the research and development were greatly appreciated and the hotel manager noted that they will certainly apply the ideas derived from the project.
This project is a great example of the quality of teaching we provide at IFT. We have to make sure students have the ability to apply their learning into practice and to provide a safe environment for students to experiment as well as experience the real world.
View gallery