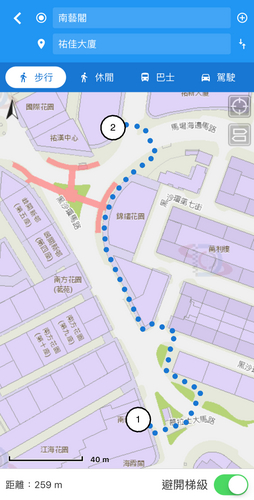 The walking scheme can design route without climbing steps
Whether you want to take a stoll or go on foot, take a bus ride or driving, the new version of "Macau GeoGuide" can meet multiple requirements.
The "Macau GeoGuide" is a mobile map App launched by Cartography and Cadastre Bureau, currently over 300,000 downloads. The new version 2.5 of the "Macau GeoGuide" not only provides the latest maps of the geographic information about the new built artificial island of Zhuhai-Macao boundary crossing facilities of Hong Kong-Zhuhai-Macao Bridge, but also includes a full range service for citizens and tourists, over 50 kinds of information about health care, food, housing and transport.
To cooperate with the establishment of a Smart City, the intelligent walking and driving network are added into the latest version of"Macau GeoGuide" for travel needs of citizens and tourists, optimizing the function in planning travel routes. By two simple steps, the App, according to user's positioning, generates four travel schemes such as shortest walking, leisure, bus routes and driving, which take different users' travel needs into account.
Four travel schemes have their own characteristics. It is notable that the walking scheme, taking different users' travel needs into account, generates the shortest walking route, which also provides a thoughtful "avoid steps" function planning a travel scheme without climbing steps to elderly and those taking care with babies. In the leisure scheme, so as to achieve the goal for Macao Developing into World Centre of Tourism and Leisure, attractions can be added along the walking route, by enriching the leisure travel experience. In the bus routes scheme, user can find the bus station nearby, as well as the information such as bus routes, interchange, pick-up or drop-off bus station, number of stations travelling by bus, fare etc., its client-oriented design also integrates several bus routes in the search result. The driving scheme can design the shortest driving route with textual descriptions of driving direction, providing an easy, safe, rapid driving experience to drivers.
Moreover, the latest Android version of "Macau GeoGuide" introduces the positioning technology in ground-based augmentation operated by GPS Reference Station of Cartography and Cadastre Bureau, supporting calibration signals of GPS, GLONASS as well as BeiDou Navigation Satellite System, which optimizes the efficiency and accuracy of the positioning and location sharing functions in mobile phone, popularizes professional satellite positioning technology to daily life, providing an optimal quality operative experience in geographic information service to users.
The new version 2.5 of "Macau GeoGuide" can be downloaded for free in App Store and Google Play, supporting iOS 9.3 and Android 4.4 or above versions, containing the four interfaces which are in traditional Chinese, simplified Chinese, Portuguese and English. Citizens and tourists are welcome to download the App by scanning the QR Code below. For more information, please refer to Cartography and Cadastre Bureau website (http://www.dscc.gov.mo/geoguide/ios_android/default_eng.htmll) or inquiry via telephone (Tel: 2834 0040) during office hours.
View gallery