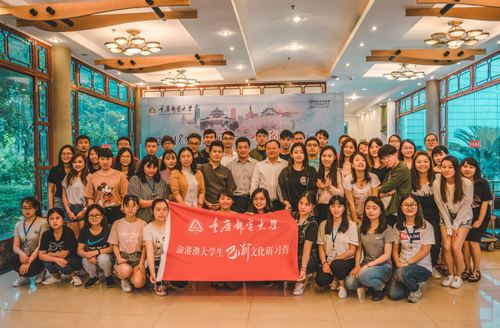 MPI Students Learn Bayu Culture in Chongqing
For the purpose of promoting academic exchange among universities in Macao, Chongqing and Hong Kong, and enhancing students' awareness of the unique culture of the Bayu region, the Student Affairs Office of the Macao Polytechnic Institute (MPI) organised a study camp with Chongqing University of Posts and Telecommunications. This was a precious learning experience for MPI students to understand the history and development of Bayu culture through lectures, city tours, site visits and culturalheritage visits.
The study camp revolved around the history, economy, culture and education of the Bayu region and conducted lectures on the topics of "Chinese History and Culture", "Bayu History and Cultural Heritage", "Research of Chongqing History ", "Chongqing Local Economic Development", and "Chongqing Geography and Folk Culture". MPI students then had field trips to the Chongqing Historical Site of the War of Resistance Against Japanese Aggression, Chongqing China Three Gorges Museum, Hongyadong and Ciqikou Old Town, thus to deepen the content they learned from the lectures, and to understand the history and cultural customs of Western China. Chongqing is nicknamed "Mountain City", and MPI students also took this opportunity to visit the Wulong Tiansheng Three Bridges and Tiankeng Land Slot, and enjoyed the large-scale performance of real landscape "Impression Wulong".
Student Tam of the Accounting programme recalled that while she visited the Historical Site of the War of Resistance Against Japanese Aggression, images of the Chinese people fighting in the war arose in her mind and aroused her patriotic feelings. Student Lao of the Social Work programme said that he had never been to Chongqing, and through this study camp he gained knowledge of the geographical and cultural differences among the Western and Southern regions of China. The Student Affairs Office indicates that MPI has always been committed to promoting national education and to establishing connections with renowned universities in China, therefore providing opportunities to students for academic exchanges in China, enhancing their sense of national identity and building up a correct concept of "the State and the Family".
View gallery