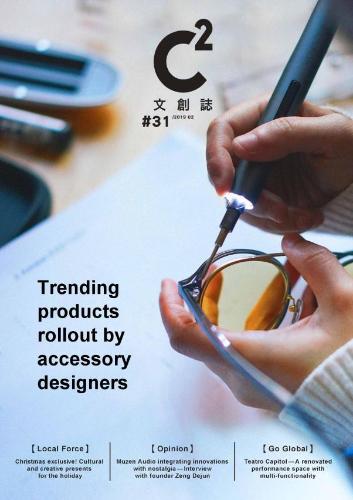 The 31st issue of C2
Published by the Cultural Affairs Bureau and produced by Like Entertainment & Production Co. Ltd., the thirty-first issue of C2 Magazine will be released next Wednesday (6 February).
The accessories we wear can reflect our personal taste and fashion attitude, and the accessory market has been booming recently. In the "Feature" section, founders of PERCY LAU (Hong Kong), Musa Diffuser Jewellery (Hong Kong and Macao) and Stardust Journey (Macao) are invited to share their brand stories, shedding light on how they use their unique fashion sense to break through limitations and roll out trending accessories. In the "Close-up" section, founder of local flower design company Oulala Flower, Carole Delavelle from France, talks about her experience of running a flower shop in Macao. Birds Posture Calligraphy has enjoyed huge success in various design competitions, and, in the "Opinion" section, the calligraphy designer Benny Tang introduces his design ideas and his view on the typeface design market.
After being revitalised and renovated, the former Central Police Station Compound in Hong Kong, now renamed as Tai Kwun, has attracted many art lovers since its opening last May. In the "Go Global" section, Eddy Zee, Head of Performing Arts of Tai Kwun, is invited to introduce how Tai Kwun organises art projects and introduces art to the public. In the "Blogs" section, seven columnists, namely Lo Che Ying, Tracy Choi, Lam Sio Man, Un Sio San, Ron Lam, Yap Seow Choong and Johnny Tam, continue to share their unique perspectives on the development of the cultural and creative industries.
C2 is an online trilingual magazine (in Chinese, Portuguese and English) issued on the first Wednesday every two months. The next issue will be launched on 3 April 2019. Readers are welcome to access or download the magazine at www.c2magazine.mo, or opt for the email subscription function: simply click the "subscribe" button on the right of the magazine's webpage and enter the email address to receive regular information about C2 Magazine. For latest updates, you may also visit the magazine's Facebook page at www.facebook.com/c2magazine.macau, or stay tuned on WeChat by clicking "add contacts" and inputting "c2_magazine" in the ID field. For enquiries, please email to c2magazine.macau@gmail.com.
View gallery