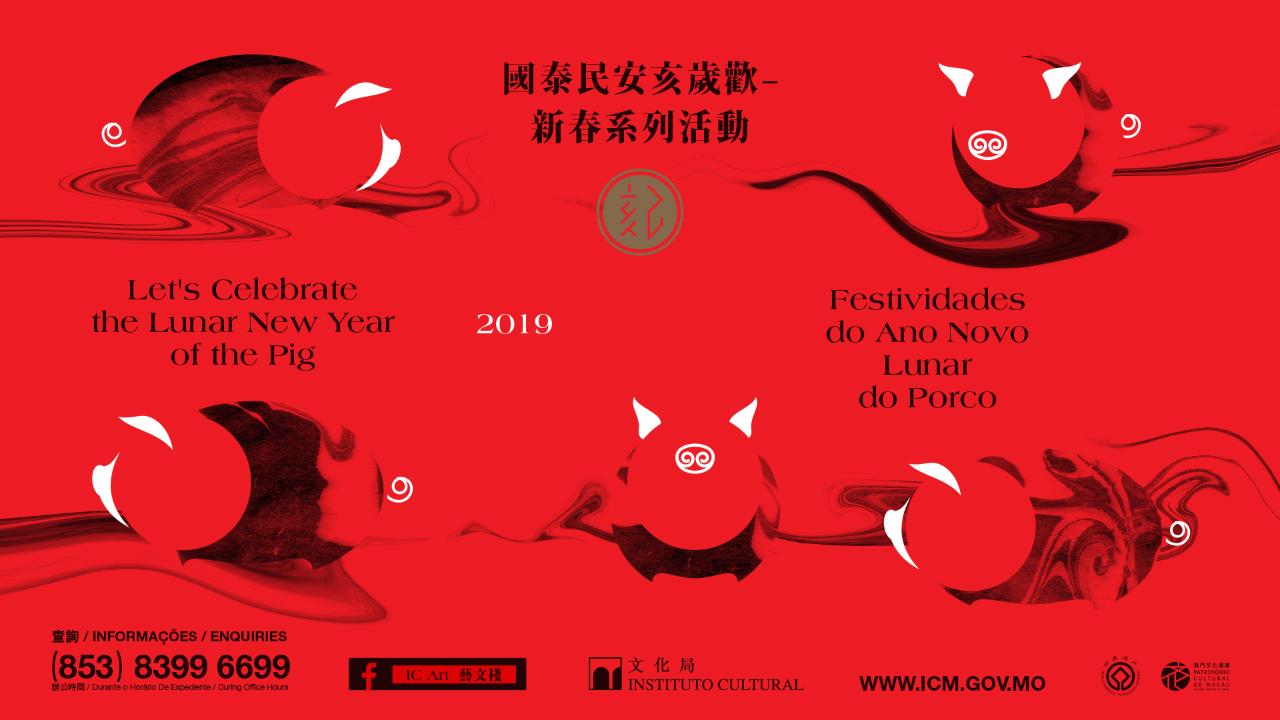 Let's Celebrate the Lunar New Year of the Pig
In order to celebrate the Chinese New Year with the public, the Cultural Affairs Bureau (IC, from the Portuguese acronym) organizes the "Let's Celebrate the Lunar New Year of the Pig".
During the first three days of the Lunar New Year (from 5 to 7 January), a series of extraordinary activities will be held. In the morning of the first three days of the Lunar New Year, the Drum Art Society of Shanxi Province and Ethnic Art Troupe of Hunan will host "New Year Gong and Drum Performance" at Iao Hon Garden, Barrier Gate Plaza, Barra Square, Rotunda de Carlos de Maia, Pak Tai Temple, Taipa and Eduardo Marques Garden, Coloane, respectively, presenting ethnic dance and drum performances, adding to the festive atmosphere. On the same days at 2:30pm, artistic groups from two provinces will host the "Chinese New Year Activities 2019" at Anim'Arte NAM VAN, and the representatives transmitters of intangible cultural heritage from two provinces will showcase the manufacturing process on-site and display the Spring Festival custom crafts in booths, allowing the public to experience the rich atmosphere of folk festivals.
From 5 to 7 February, the Mandarin's House hosts a lion dance performance at 3pm, while the Lou Kau Mansion and General Ye Ting's Former Residence host a "Chinese New Year Concert" on the same days, celebrating the Spring Festival with the public and tourists.
During the Lunar New Year, IC will hold exhibitions at various cultural venues, including the exhibition "Assemblage of Treasures – Exhibition of the Macao Museum Collection for Celebration of the 20th Anniversary" to be held until 24 February at the Macao Museum; the "Prayer and Blessing – Exhibition of Chinese New Year Wood-block prints of Shanxi and Hunan Provinces" to be held from 1 to 27 February at the Chun Chou Tong Pavilion in Lou Lim Ioc Garden; the exhibition "Oneness: Calligraphy by Professor Jao Tsung-I" to be held until 30 September at the Jao Tsung-I Academy; several large-scale exhibitions, such as the exhibition "The Shanghai School of Painting – Collections of the Palace Museum" and the exhibition "Masterpieces of Russian Art from the State Tretyakov Gallery", to be held until 10 March and 22 April, respectively, at the Macao Museum of Art, thereby offering a rare opportunity not to be missed.
Admission to the above performances, activities and exhibitions is free. For more information, please contact the IC through tel. no. 8399 6699 during office hours. IC's cultural facilities will remain open during the Lunar New Year. For details, please visit the IC's webpage at www.icm.gov.mo, its official WeChat account "ICmacao" or "IC Art" page on Facebook.
List of "Let's Celebrate the Lunar New Year of the Pig"
Name

Date

Time

Venue

New Year Gong and Drum Performance

02/05

10:00 – 10:30

Iao Hon Garden

11:00 – 11:30

Barrier Gate Plaza

02/06

10:00 – 10:30

Barra Square

11:00 – 11:30

Rotunda de Carlos da Maia

02/07

10:00 – 10:30

Pak Tai Temple, Taipa

11:00 – 11:30

Eduardo Marques Garden, Coloane

Chinese New Year Activities 2019

02/05 – 02/07

14:30 – 17:30

Anim'Arte NAM VAN

Lion Dance Performance

02/05 – 02/07

15:00 – 16:00

Mandarin's House

Chinese New Year Concert

02/05 – 02/07

15:00 – 16:00

General Ye Ting's Former Residence

02/05 – 02/07

11:00 – 12:00
15:00 – 16:00

Lou Kau Mansion

Assemblage of Treasures – Exhibition of the Macao Museum Collection for Celebration of the 20th Anniversary

2018/09/29 –2019/02/24

10:00 – 18:00
(No admission after 17:30)
opens daily (including public holidays); closed on Mondays

Remains open to the public on special holiday, 4 February (Mon).

Macao Museum

The Shanghai School of Painting - Collections of the Palace Museum

2018/12/19 –2019/03/10

10:00 – 19:00
(No admission after 18:30)
opens daily (including public holidays); closed on Mondays

Remains open to the public on special holidays, 4 February (Mon) and 22 April (Mon).

Macao Museum of Art

Masterpieces of Russian Art from the State Tretyakov Gallery

01/19 – 04/22

Oneness: Calligraphy by Professor Jao Tsung-I

01/26 – 09/30

10:00 – 18:00
(No admission after 17:30)
opens daily (including public holidays); closed on Mondays

Remains open to the public on special holidays, 4 February (Mon).

Jao Tsung-I Academy

Prayer & Blessing - Exhibition of Chinese New Year Wood-block prints of Shanxi and Hunan Provinces

02/01 – 02/27

09:00 – 19:00

Chun Chou Tong Pavilion in Lou Lim Ioc Garden
Opening hours of the facilities of the Cultural Affairs Bureau
during Chinese New Year (from 5 to 8 February)
Venue

Opening Hours

Ruins of St. Paul's

9am–6pm (no admission after 5:30pm)

Museum of Sacred Art and Crypt

9am–6pm (no admission after 5:30pm)

Na Tcha Exhibition Room

10am–6pm (no admission after 5:30pm)

Guia Fortress and Guia Chapel

Guia Fortress: 9am–6pm
(no admission after 5:30pm)
Guia Chapel: 10am–5pm

Cinematheque.Passion

Ticket Office: 10am–11:30pm
Film Information Room: 10am–8pm

Macao Fashion Gallery

10am–8pm

Mount Fortress Corridor

7am–7pm

Exhibition Room of Master Lu Ban's Woodcraft Works

10am–6pm (no admission after 5:30pm)

Lou Kau Mansion

10am–6pm (no admission after 5:30pm)

Mandarin's House

10am–6pm (no admission after 5:30pm)

Former Chong Sai Pharmacy
No. 80 in Rua das Estalagens

10am–6pm (no admission after 5:30pm)

General Ye Ting's Former Residence

10am–6pm (no admission after 5:30pm)

Archives of Macao

Closed from 5–7 February
Open from 8 February

Jao Tsung-I Academy

10am–6pm (no admission after 5:30pm)

Tap Seac Gallery

10am–9pm

Patane Night Watch House

10am–6pm (no admission after 5:30pm)

Heritage Exhibition of a Traditional Pawnshop Business

10:30am–7pm

Dom Pedro V Theatre

10am–6pm

Treasure of Sacred Art of St. Joseph's Seminary

10am–5pm (no admission after 4:30pm)

Macao Museum

10am–6pm (no admission after 5:30pm)

Macao Museum of Art

10am–7pm (no admission after 6:30pm)

Handover Gifts Museum of Macao

10am–7pm (no admission after 6:30pm)

Kun Iam Ecumenical Centre

10am–6pm (no admission after 5:30pm)

Macao Contemporary Art Center - Navy Yard No.1

10am–7pm

Taipa Houses

10am–7pm (no admission after 6:30pm)

Museum of Taipa and Coloane History

10am–6pm (no admission after 5:30pm)

All branches of the Macao Public Library

Closed from 5–7 February
Open from 8 February
(Red Market Library remains open during Chinese New Year)
View gallery