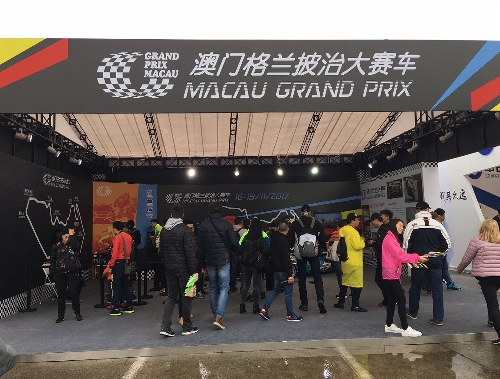 Macau Grand Prix booth in Chinese Formula 1 Grand Prix venue
The publicity and promotional campaign for the 64th Macau Grand Prix, to be held from 16 to 19 November this year, is currently underway.
At the invitation of the organizers of the Chinese Formula 1 Grand Prix, the Sports Bureau set up a promotional booth at Fountain Plaza of Shanghai International Circuit during the Grand Prix weekend (7-9 April). Among the items on show included the 2011 Macau Formula 3 Grand Prix winning car driven by Spaniard Daniel Juncadella, and the MGP simulator which allowed visitors to experience the excitement of racing at the iconic Guia Circuit.
Motorsports fans visited the booth for closeup appreciation of the Formula 3 car and indulged themselves in the thrill provided by the MGP simulator, with many expressed their wish to visit Macao in the future to witness MGP in person and to feel the charm of the Guia Circuit.
With the opportunity for promotion during the Chinese Formula 1 Grand Prix in Shanghai, the Sports Bureau aims to enhance the knowledge of Shanghai citizens and international motorsports fans in MGP, while further strengthens ties with the organizers of the Chinese F1 Grand Prix to jointly promote motorsports. In the future, the Sports Bureau will organize more events to promote MGP. At the same time, it endeavors to increase public awareness and involvement in the MGP by enhancing promotion of this annual prestigious sporting event in different society sectors and communities in Macao.
View gallery