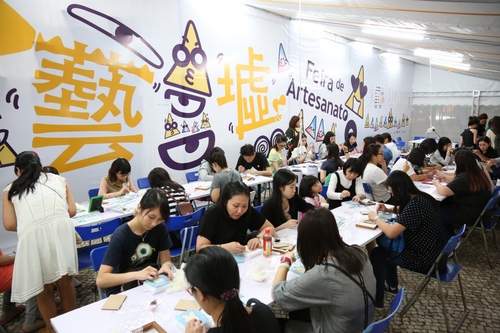 The "Tap Siac Craft Market" offers more than thirty handicraft workshops for the public to experience the fun of creative handicrafts.
Organised by the Cultural Affairs Bureau (IC) and co-organised by the Civic and Municipal Affairs Bureau (IACM), the "Tap Siac Craft Market" will be held from 21to 23 April and from 28 to 30 April(every Friday to Sunday for two consecutive weeks), featuring more than thirty handicrafts workshops. The fee for each handicrafts workshop is MOP50. All interested parties can register for the workshops from today through "Activity Registration System" on IC's website.
The "Tap Siac Craft Market" features a variety of themed workshops, including "Industrial Style—Handmade Cement Table Lamp", "Cute Panda Pen Holder", "Rose Brooch with Sterling Silver Wire", "Leather Wallet with 3 Coin and Card Compartments", "Creating Bonsai with Succulent Plants", "Musical Note Pendant with Sterling Silver Wire", "Wool Felt Sheep", "Preserved Flower Ferris Wheel Lamp", "Japanese Style Hand-sewn Book", "Parent-child Workshop: Stars Picture Book", "Watercolour Painting Spring Flowers Postcard", "Miniature Book Key Chain", and "Candy Machine Handmade Card Workshop", among others.
For more information about the dates and contents of the workshops, please check the Activity Registration System on IC's website (www.icm.gov.mo/eform/event). Online registration is available from today until Tuesday, 18 April, at 5pm. Successful applicants will be selected by drawing lots and will be notified by SMS and email on Wednesday, 19 April. Successful applicants should pay the registration fees at designated library within the specific period of time. On-site registration and payment to all workshops start 30 minutes before the workshop begins, subject to availability. Registered applicants who arrive 10 minutes after the workshop starts will be disqualified and replaced by the on-site applicants in the waiting list.
For more information about the admissions of each workshop and the class schedule, please visit the Macao Cultural and Creative Industries Website (www.macaucci.com), or the "Macao Craft Market" page on Facebook (www.facebook.com/MacaoCraftMarket). For enquiries, please contact Ms. Wong, staff member of IC, through tel. no. 8399 6255 or 8399 6288 during office hours.
View gallery