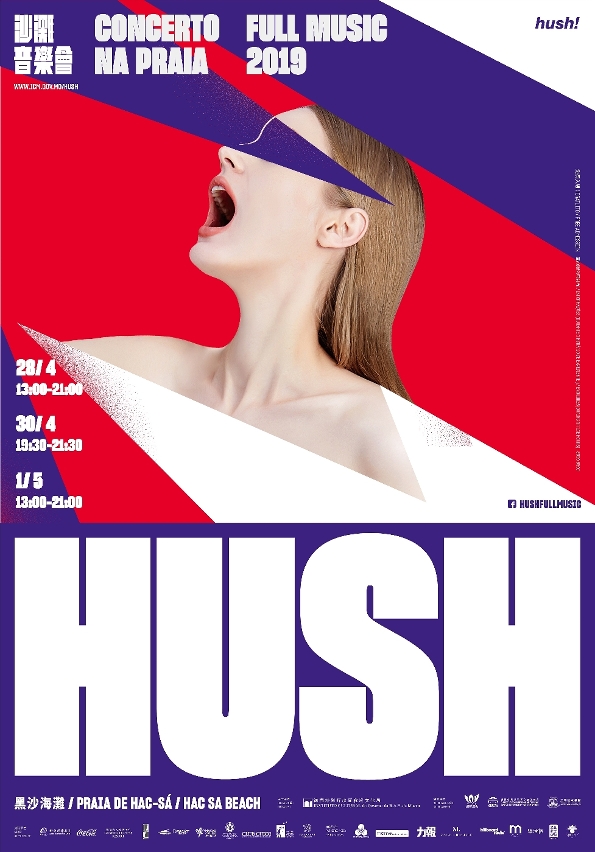 "HUSH!! Full Music" held at the end of April delivering diverse music experience
Organised by the Cultural Affairs Bureau and co-organised by the Municipal Affairs Bureau, the Macao Government Tourism Office and the Marine and Water Bureau, the beach concert "HUSH!! Full Music" will be staged at Hac Sa Beach from 28 April to 1 May (Sunday to Wednesday), where an array of singers and music bands from Macao and different countries and regions will deliver a marathon music feast. This year's concert will feature three special stages, including an exclusive stage dedicated to local young music bands. A variety of hush! branded products by local cultural and creative entities will be presented in the booths, and the event will continue to hold music workshops, a short video competition, a handicraft market and campus music promotion. Admission to all activities is free and residents are welcome to participate.
Three stages featuring diverse music performances
The concert features three special stages, namely the Hot Wave stage, the Summer Chill stage and the GEG Upbeat Power stage. The Hot Wave stage brings an energetic marathon of music performances. The Summer Chill stage, which was well received last year, features a variety of genres such as electronic music, jazz music and folk music, allowing the audience to enjoy music while enjoying the sea breeze, and the musicians to share their music experience; while local original music albums will also be showcased in an adjoining booth. Supported by the Galaxy Entertainment Group, the GEG Upbeat Power stage is introduced for the first time this year, promoting the pop music culture of a new generation, creating a rock party for young local music bands, and presenting music of a new generation by 10 new music bands.
The "HUSH!! Full Music" beach concert will be held on 28 April and 1 May, from 1pm to 9pm Overseas guest performers include SCANDAL (Japan), Youngr (U.K.), RubberBand (Hong Kong), Phum Viphurit (Thailand), ManGoRise (Hungary), Yoyo (Hubei, China). Local artists include aRiejohn, Evade, Forget the G, Scamper, Zenith, Sunset or Rise, Pyjamars, 206, Dr. Jen, 80 & tal, Joao Gomes e Banda, Concrete/Lotus, e:ch, Ghostly Park, Dat Trio, ASURA, Achun, Single Path, Loiz.P, Sleeping Forest, Rebel Rabbit, Super Guest, Ten.Ice, B_GEI3, Soulomix, Emo, Cageling, and Banda da CPM.
From 7:30pm to 9:30pm on 30 April, veteran musician Jun Kung will collaborate with famous international percussionist Steve Thornton to host "The Latin Connection". Steve Thornton, who was a percussionist with jazz superstar Miles Davis, will join hands with Jun Kung. In addition, in the evening of 1 May, the electronic music party "Electronic Eden by Red Bull", supported by Red Bull, will be held featuring three DJs from around the world, including Red Bull Music 3style winner DJ RINA (Japan), DJ ATL by Club CUBIC (U.K.), DJ Sayian (Macao), turning the Summer Chill stage into an electronic dance floor for the audience to dance under the stars.
Residents are welcome to participate in music workshops
In order to promote local original music, two music workshops will be held on site. In "Drum Workshop Masterclass with Jun Kung featuring Steve Thornton", renowned musician Jun Kung, active in Hong Kong and Macao, and American guest percussionist Steve Thornton are invited to share drums and percussion techniques with participants. Besides, another workshop "Introduction to World Music Instruments" instructed by Macao band ASUR will introduce a variety of popular folk music instruments, such as the African spinning shaker asalato, Australian indigenous pipe digeridoo, Jew's Harp and Handpan, among others. Interested parties can register through the "Activity Registration System" at IC's website at www.icm.gov.mo/eform/event starting from 10am on 4 April. Seats are limited and distribution is on a first-come, first-served basis.
Booths featuring cultural and creative products
In order to enrich the atmosphere and experience for concert-goers and to promote the development of the local cultural and creative industries, there are six hush! stalls by entities, namely 8-bit Block Studio, Macau Fish, Ace Concept Store, Choco Flower, JE Handcrafts and Aomi App, selling hush! branded products.
Furthermore, the Creative Market will be held focused on creating fun interactive experiences, featuring art workshops and game booths for families, hosted by a number of energetic representatives from the Grand Coloane Resort. A food stall selling special drinks and food will be set up, enriching the atmosphere of the event. All families are welcome to participate.
For more information about the event, please visit the "HUSH!! Full Music" website at www.icm.gov.mo/hush, follow the "HUSH!! Full Music" page on Facebook and subscribe the IC's WeChat official account "ICmacao", or call IC through tel. no. 8399 6699 during office hours.
View gallery