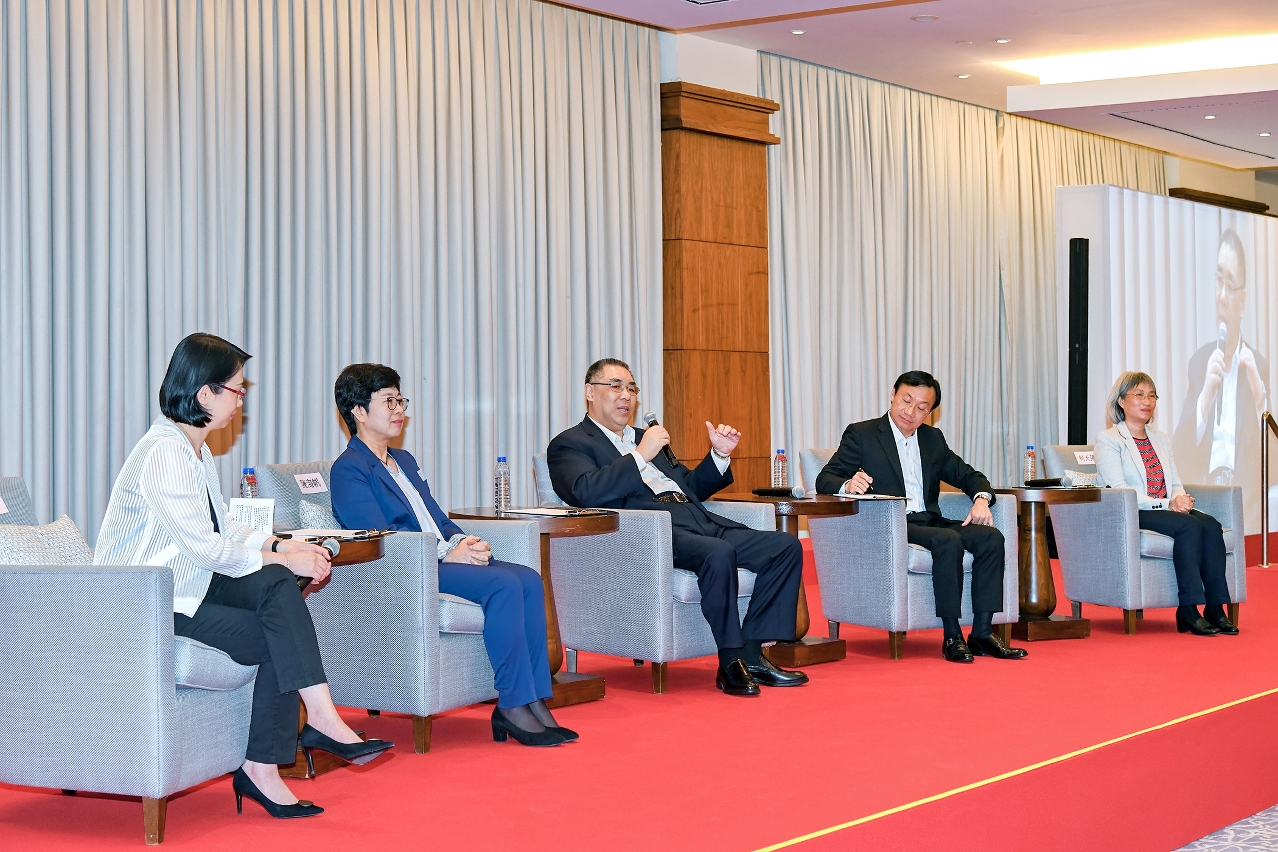 The Chief Executive, Chui Sai On, meets with Macao students studying in Portugal and gets a better understanding of their educational experiences there.
The Chief Executive, Mr Chui Sai On, encouraged Macao students studying in Portugal to make good use of the opportunity to gain further knowledge from overseas study, and subsequently accumulate additional experience from working in Macao, all in order to deepen their professional skills.
During his visit to the Portuguese capital, Mr Chui hosted a dinner for the Macao students. It was held during the evening Portuguese time, on Tuesday (14 May).
Approximately 200 Macao students were invited; they also attended an exchange session prior to the dinner.
Six of the students present shared information on their experience of life studying in Portugal, gave their views on the possibility of pursuing a further academic qualification and talked about their career prospects in Macao.
Other issues discussed during the exchange session were: how to address the issue of the three legal systems operating within the Guangdong-Hong Kong-Macao Greater Bay Area (Greater Bay Area); the optimisation of Macao's legal system; and how the students' knowledge could contribute to Macao's development when they return.
Mr Chui encouraged students to strengthen their study effort in Portugal and, after returning to the city, accumulate experience and knowledge regardless of whether they would work in public departments, private-sector companies or judicial bodies.
He added that legal professionals played an important role in society. Opinions and decisions from the legal sector could have a major influence on society. There might be different opinions and decisions regarding legislation. In addition, people within the legal field might have different opinions on the same subject, so for those involved in law studies, the priority was to consolidate the base of their knowledge and accumulate experience, said Mr Chui.
The existence of different legal systems within the Greater Bay Area presented, said Mr Chui, huge challenges for a coordinated development model for the nine cities in Guangdong and the two Special Administrative Regions (SARs), i.e. Hong Kong and Macao, that collectively make up the city cluster. It was not an easy task to create a mechanism to facilitate integration within the Great Bay Area, he stated.
Several officials of the Macao SAR Government – namely the Secretary for Administration and Justice, Ms Chan Hoi Fan; and the Secretary for Social Affairs and Culture, Mr Tam Chon Weng – shared their own insights with the students attending the exchange session.
Secretary Chan advised students to pay attention to China's national development strategies, in addition to Macao's strategic positioning in terms of the country's economy. Under those respective strategies, the Portuguese language would play an important role, said Ms Chan.
She encouraged students to pay closer attention to social affairs at home and seek to expand their circle of friends at home and in Portugal, and especially to communicate with their fellow students in Portugal, in order that the Macao students could hone their linguistic skills.
In the exchange session, Secretary Tam shared insights on the Government's policy framework on education, especially regarding cultivation of a greater number of people who are bilingual in Chinese and Portuguese. He added he hoped that students would treasure the time spent in Portugal and improve their own competitiveness for the significant opportunities available in Macao.
The Chief-of-Office of the Chief Executive's Office, Ms O Lam; and the Director of the Macao Economic and Trade Office in Lisbon, Ms O Tin Lin, were also present at the exchange session and dinner in Lisbon.
View gallery