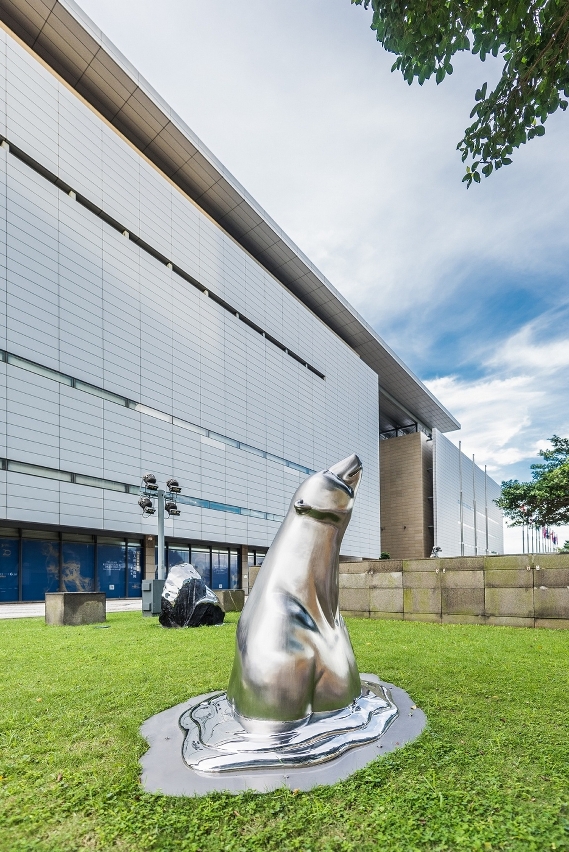 Contemplation of Lovingkindness
"Art Macao", a six-month mega arts festival, presents a total of 41 events held at 48 locations, offering a new cultural tourism experience that breaks through the concept of space. A number of large-scale outdoor art installations by local and foreign artists, exhibitions organized by foreign consulates accredited in Hong Kong and Macao and hotels and integrated resorts, turns local landmarks into photography hotspots, bringing an artistic summer.
"Sanctuary", supported by MGM, a bamboo structure designed by local architects, designers and artists João Ó and Rita Machado, is exhibited at the Mount Fortress Garden. This seven-meter-high installation in a unique style provides visitors a shady art space; the stainless steel sculpture "Contemplation of Lovingkindness", supported by Wynn Macau, Limited, designed by Hong Kong artist Mok Yat San, is exhibited around the Macao Museum of Art, combing Chinese ink painting with modern landscape elements in surreal proportions and in three dimensions, in order to remind the public to protect nature. The Consulate General of Hungary in Hong Kong and Macao presents the exhibition "Looking out of the Credible – Tapestries of Zsuzsa Péreli" until 14 July. Metaphysical and sacred themes permeate Zsuzsa Péreli's works, hovering between the real and the illusory world, insinuating and telling the audience all that can be perceived as intangible reality. The Consulate General of Italy in Hong Kong presents the exhibition "Colours of Asia" at the Taipa Houses until 22 September, featuring paintings themed on travel and discovery by Italian artist Francesco Lietti.
The main exhibition open at the Macao Museum of Art, the mega event's highlight, the "Art Macao: International Art Exhibition", features a number of valuable works selected by hotels and integrated resorts, presenting the essence of "Art Macao". The art exhibitions held at hotels and integrated resorts are equally fantastic and diversified, including: MGM, in collaboration with contemporary artists, presents a new artistic conception of ink painting, offering the large-scale multimedia installation A Metamorphosis: No End To End by Jennifer Wen Ma and the digital landscape painting Journey to the Dark II by Yang Yongliang, presenting the essence of Chinese culture and art; the exhibition "Wynn – Garden of Earthly Delights" at Wynn Macau, Limited, features a series of extraordinary modern and contemporary art pieces, taking the public on a journey into a world of innovation and creativity through various media forms such as paintings, installation and digital art pieces.
The application "Art Macao" was also launched. The users can download the application for free by searching "Art Macao" in App Store or Google Play, allowing them to have access to the details of the exhibitions, events, artists' profiles and exhibits introductions and also to use the photography function with the application. Admission to most activities of "Art Macao" is free. For tickets and details, please visit the respective webpage at www.artmacao.mo, its official Instagram account "artmacao", "IC Art" page on Facebook and WeChat account "ICmacao".
View gallery