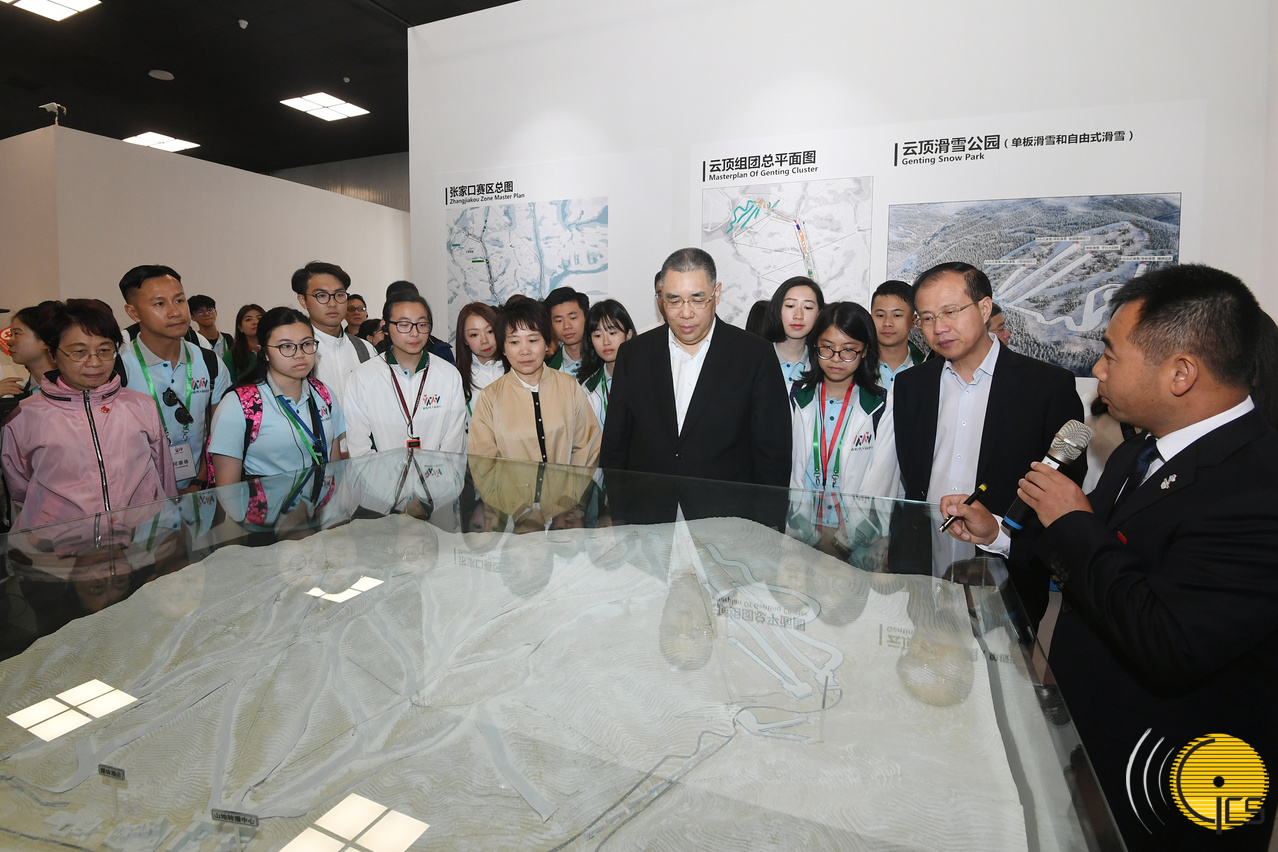 The Chief Executive, Mr Chui Sai On, and members of the youth delegation to Hebei Province, are briefed at an exhibition hall in Zhangjiakou city for the Beijing 2022 Winter Olympics.
The Chief Executive, Mr Chui Sai On, and the delegation of Macao young people travelling with him in Hebei Province, have been making a number of visits, including on the third day a trip to facilities in the city of Zhangjiakou that will be used for the Beijing 2022 Winter Olympics.
Mr Chui is leading a group of 100 young Macao people on the Hebei visit. It is designed to assist them in grasping – in a comprehensive and intensive way – the latest aspects of national development.
In Zhangjiakou the delegation visited an exhibition hall and skiing competition venue to be used for Beijing 2022, in order to offer them first-hand insights about the preparations for the sports event.
Following that visit, delegation members took part in an event to promote exchanges between high school students from Macao and from Hebei.
During the latter event, the visitors saw a dance performance and heard a group singing the Chinese song "The Song of the Seven Sons". The performances were followed by a session involving students from Macao and from Hebei adding coloured paint to a 20-metre long work that symbolised the 20th anniversary of Macao's return to the motherland. In addition, Mr Chui and other officials signed the artwork.
On Tuesday afternoon, the delegation visited Saihanba National Forest Park.
On Monday (22 July), Macao and Zhangjiakou had signed a letter of intent regarding cooperation between Zhangjiakou's Bureau of Culture, Radio, Television and Tourism, and Macao's Institute for Tourism Studies.
The letter of intent was based on the principle of the two sides using their resources in a complementary way and of mutually supporting the Zhangjiakou portion of Beijing 2022 Winter Olympics. Both sides agreed to elevate cooperation in the provision of training for staff in the tourism sector, with an aim to produce for the hotel industry a greater number of qualified management people and other personnel.
Monday also saw an exchange session with youth representatives from Hebei.
Delivering an address at that exchange session held in Chengde city, Mr Chui said he believed that as long as young people made arduous efforts in optimising their skills, and did so with innovation in mind, they would be able to advance their personal development in step with the advancement of the country.
View gallery