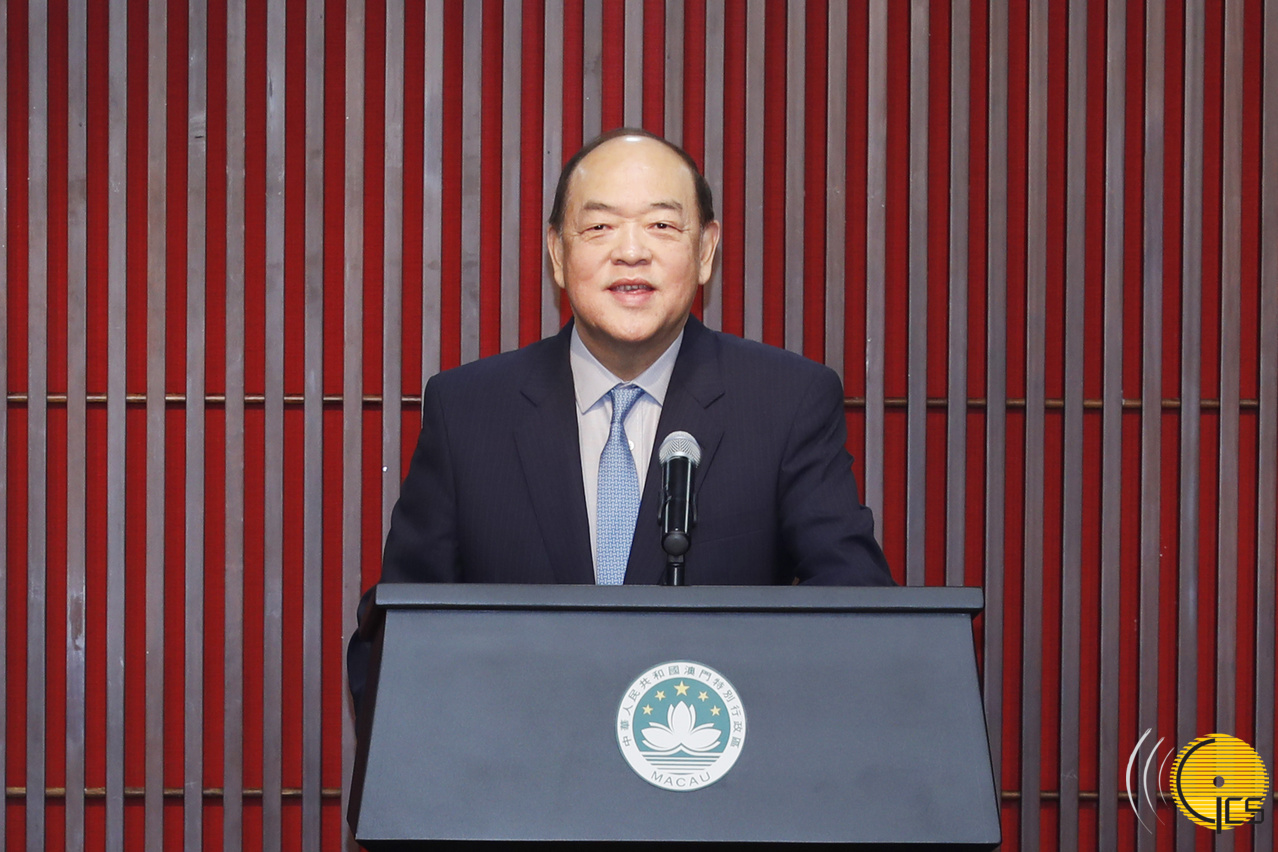 The fifth-term Chief Executive, Mr Ho Iat Seng, briefs reporters in Beijing.
The fifth-term Chief Executive, Mr Ho Iat Seng, today said he would ensure continuing implementation in Macao of the "One country, two systems" principle, with the city's own characteristics.
It was one of the aspirations mentioned by President Xi Jinping on Wednesday (11 September) when he received Mr Ho in Beijing. Mr Ho was in the capital to be appointed by the Central Government as the fifth-term Chief Executive of the Macao Special Administrative Region (SAR). Mr Ho will take office on 20 December 2019.
When speaking to reporters today in the capital, Mr Ho explained the idea of the "One country, two systems" principle in relation to Macao's own characteristics. Macao would not compare itself with neighbouring cities, because each had its distinct strengths. Macao would focus on its own path in pursuit of the enhancement of its people's livelihoods and happiness, he added.
Mr Ho also shared details of other guidance offered by President Xi during Wednesday's meeting. President Xi asked Mr Ho to embrace further what was termed big-picture thinking, and gaze farther by standing higher, following his transition from President of Macao's Legislative Assembly to the city's fifth-term Chief Executive.
In his remarks to the media, Mr Ho said the change in his role – from work in the legislature to that of administration – meant his position was shifting from that of a supervisor to one of being supervised. A Chief Executive was responsible to the Central Government and the Macao residents: these were new duties and challenges, he added.
Mr Ho also mentioned that President Xi's comments on Macao's implementation of the "One country, two systems" principle had proved that the framework was a workable solution, he added.
Mr Ho said he would be steadfast in the practise of, respectively, the "One country, two systems" principle, "Macao people governing Macao"; the exercise of a high degree of autonomy; and the maintenance of national security and social stability.
In addition, Mr Ho said he would strive to realise – within his five-year term – the five aspects of work mentioned in his election platform. They were: improving public governance; promoting diversified economic development; improving achievements in relation to advancing people's livelihoods; strengthening talent cultivation; and developing Macao as a base for cultural cooperation.
Mr Ho expressed confidence that his administration would be able to initiate, during the next five years, a number of works relating to optimisation of care for the elderly, redevelopment of old districts, and overall urban renewal.
In today's media session, Mr Ho also shared information regarding his insights on a number of topics, i.e.: national security issues; amendments to the Legal Framework for the Operations of Casino Games of Fortune, and refreshment of gaming rights once the current gaming concessions and sub-concessions expired; and the concept of universal suffrage for the election of a Chief Executive.
View gallery