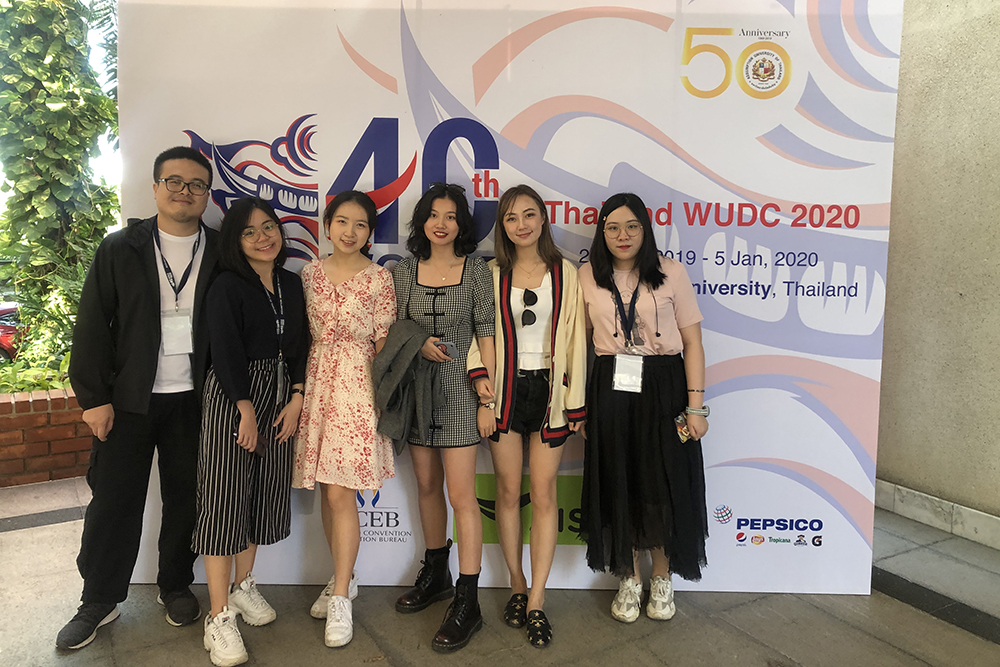 UM's English Debating Team ranks among the world's top 8
The University of Macau (UM) English Debating Team (EDT) recently entered the quarter-final in the English as a Foreign Language (EFL) category of the World Universities Debating Championship 2020 (WUDC) held in Bangkok, Thailand. UM was the only university in China to advance to this stage of the competition.
The WUDC is the world's largest English debate competition. This year's event attracted 358 teams from more than 420 universities and organisations in over 90 countries, including top universities such as the University of Oxford, Harvard University, Tokyo University, and Yale University. The competition covered various topics, including international relations, economics, law, technology, culture and arts, and theology.
Six members of the EDT participated in the competition. They were Zhang Yi, a fourth-year student in the Faculty of Business Administration and a member of Cheng Yu Tung College; Zhou Yongyi, a third-year student in the Faculty of Social Sciences (FSS) and a member of Lui Che Woo College; Wan Yingjia, a third-year student in the Faculty of Arts and Humanities (FAH) and a member of Cheong Kun Lun College; Liew Fook Khei, a second-year student in the Faculty of Science and Technology and a member of Shiu Pong College. The two accompanying team judges were FSS postgraduate student Li Jianeng and third-year FAH student Liang Xinyuan. The team formed by Zhang and Zhou beat their counterparts from the City University of Hong Kong, the University of California at Berkeley, and Boston College. The UM team was ranked No 6 in the EFL category in the group stage and outranked teams from first-rate universities such as Peking University, Tsinghua University, and Sun Yat-sen University. Although the UM team eventually lost by a small margin, it was the only team from China to have advanced to the quarter final of the competition.
View gallery