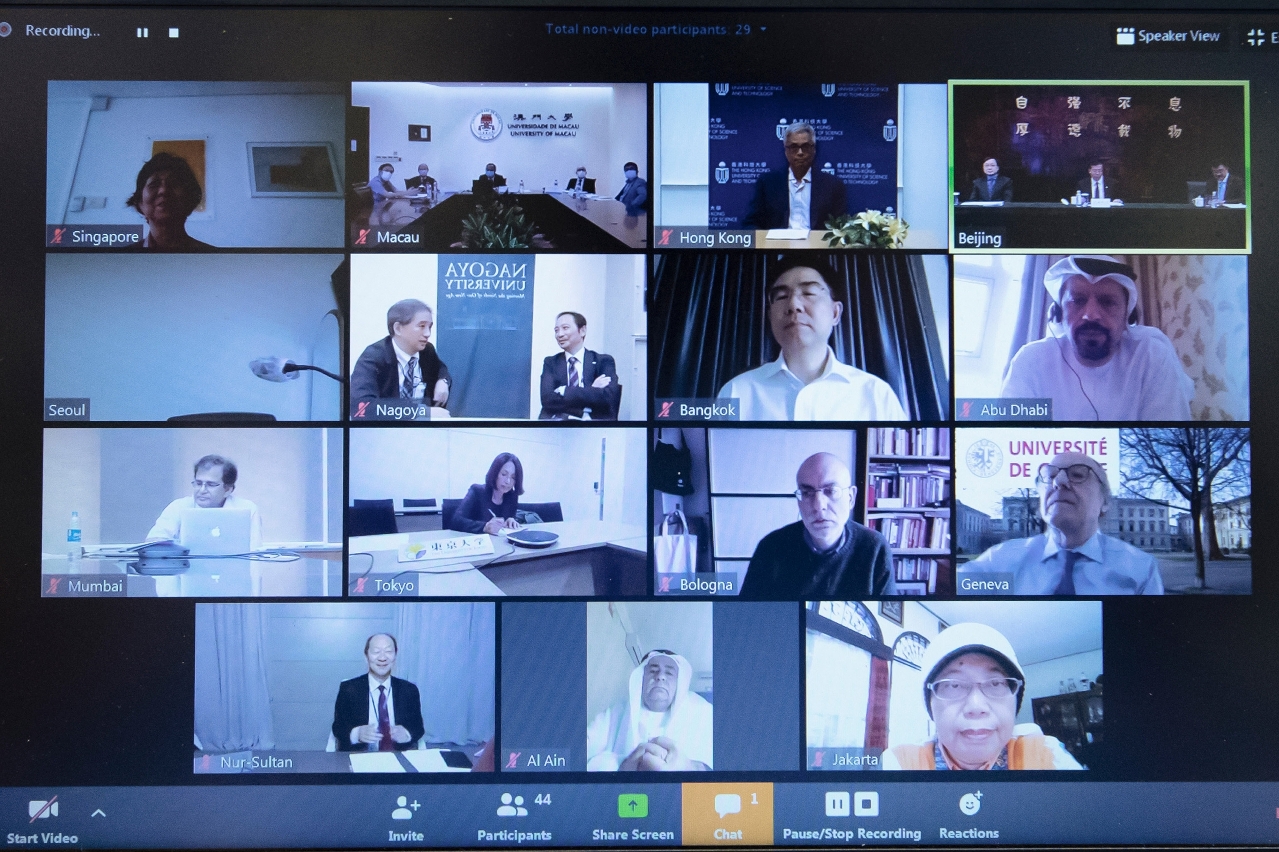 UM and 14 universities around the world share their anti-epidemic measures
The University of Macau (UM) today (27 March) participated in an online meeting with presidents and representatives of 14 well-known universities around the world. During the meeting, representatives of UM shared the university's anti-epidemic measures, experience in transitioning from classroom-based teaching to online teaching, as well as how the university assumes its social responsibility during the epidemic. Participants also discussed the benefits of online education and how institutions around the world can deepen collaboration in scientific research and increase the exchange of information against challenges arising from the pandemic.
According to Rector Yonghua Song, UM attaches great importance to the physical and mental health of all students, faculty, and staff. In addition to launching a series of anti-epidemic measures, the university has put together a team of professional counselling psychologists. In overcoming the challenges presented by the transition from classroom-based teaching to online teaching, UM focuses on three factors, namely communication, student engagement, and flexibility, in order to overcome the limitations of distance-education and to help students adapt to a new mode of learning. In Rector Song's opinion, the pandemic is a test for the entire global community. As a multicultural institution with a high degree of internationalisation, UM should take up more social responsibilities in the fight against the coronavirus. For this reason, UM quickly directed its research resources to supporting the world's anti-epidemic efforts. Related articles written by UM scholars on the development of rapid virus test kits have been accepted by Lancet. In addition, at the invitation of the Macao SAR government, UM's psychological counselling team also provided relevant services for the local community. UM students also made creative works to show support for frontline workers.
Initiated by Tsinghua University, the forum was joined by universities around the world, including Chulalongkorn University, Hong Kong University of Science and Technology, Khalifa University, the Indian Institute of Technology Bombay, Nagoya University, the National University of Singapore, Nazarbayev University, Seoul National University, United Arab Emirates University, Universitas Indonesia, the University of Bologna, the University of Geneva, the University of Tokyo, and UM.
View gallery