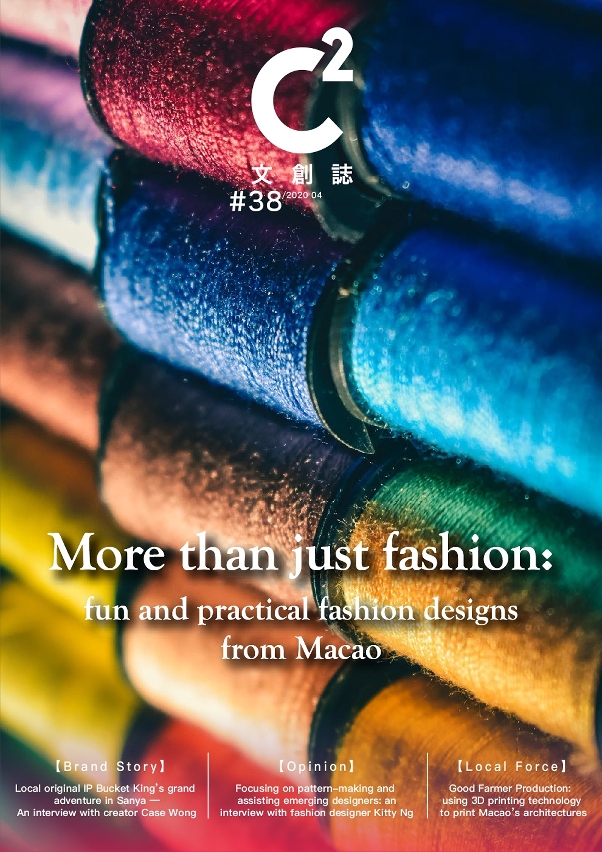 The 38th issue of C2
Published by the Cultural Affairs Bureau and produced by Like Entertainment & Production Co. Ltd., the thirty-eighth issue of C2, an online magazine of the cultural and creative industries, will be released this Wednesday (1 April).
In recent years, the fashion industry in Macao has been emerging. Quite a number of fashion brands have been trying to increase their market exposure by emphasizing fashion aesthetics as well as integrating functionality and comfortability into their fashion designs. In the "Feature" section, representatives of three local fashion brands, namely MACON, Lexx Moda and GODDESS ARMOUR, which cover functional clothing such as homewear, shoes and swimsuits, to share their brand value and business philosophy.
In November last year, a Bucket King-themed restaurant for families opened in Hainan Island, China. In the "Brand Story" section, Case Wong, the creator of Macao original animation character "Bucket King", talks about the development of this IP and the experiences of its introduction to the mainland market. Good Farmer Production Ltd. was founded by a group of local young people who use 3D printing technology to produce delicate and small models of Macao's architecture. In the "Local Force" section, Alan Lou, one of the company founders, discusses their entrepreneurial journey and product features. Veteran fashion designer, Kitty Ng, has multiple identities in the fashion industry of Macao. Recently, she has devoted herself to assisting new designers through prototyping service and setting up the "LMD Pattern-Making Workshop". In the "Opinion" section, she discloses the reasons behind this.
C2 is an online bimonthly magazine in Chinese, Portuguese and English issued on the first Wednesday of the month of publication. The next issue will be launched on 3 June. Readers are welcome to browse or download the magazine at www.c2magazine.mo or opt for the email subscription function: simply click the "subscribe" button on the right corner of the magazine's webpage and enter the email address to receive regular information about C2 Magazine. For the latest updates, you may also visit the magazine's page on Facebook at www.facebook.com/c2magazine.macau, or stay tuned on WeChat, by clicking "official accounts" and inputting "c2_magazine" in the ID field. For enquiries, please email to c2magazine.macau@gmail.com.
View gallery