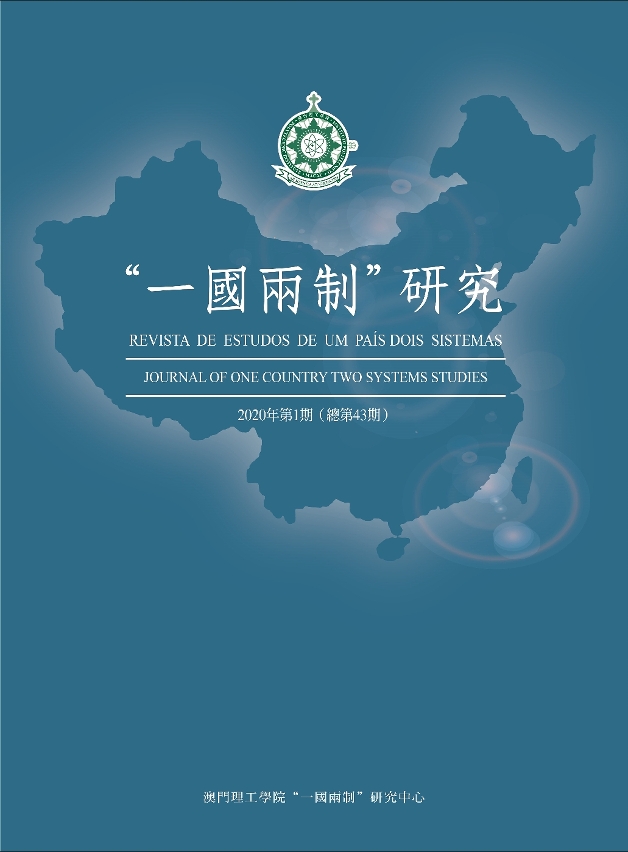 The cover of One Country Two Systems Studies, 1st 2020 (Issue 43)
Macao Polytechnic Institute has published the new issue of One Country Two Systems Studies (Issue 43). The Journal meets the demand of the development of the theory and practice and provides a platform for the interdisciplinary comprehension of the "One Country, Two Systems" Policy, by publishing a good number of well-selected outstanding academic research and papers.
This particular issue displays all the important articles from the "One Country, Two Systems" Forum 2019, organised by One Country Two Systems Research Center of MPI. A highly recommended paper "The Macao Practice of 'One Country, Two Systems': Features, Reasons and Predictions", written by local scholar Professor Xu Chang in celebration of the 20th anniversary of the handover of Macao SAR, gives in-depth analysis and details on the implementation and future development of the Policy. Professor Zhao Guoqiang confronts the issues that arose during the process of Macao legal reform in his paper "Legal Reform and 'One Country, Two Systems'" with a wonderful presentation at the Forum. Professor Yang Jiejun focuses on the administrative system reform in Mainland China in his "New Changes and Developments of the Administrative System in Mainland China: An Analysis Based on the Reform Path" which offers valuable reference for the Macao government. In "The Retrospect and Prospect for the Moderate Economic Diversification in Macao", Zhang Yuge provides a pertinent analysis on the challenges faced by our local economy. The content of the Symposium on the "Review of the Government's Work in the Fiscal Year 2019" held in November 2019 is also included in this edition. More articles such as "On the Mechanism Construction of Mediation as an Alternative Dispute Resolution Method in Macao" by Chen Defeng, the interpretation of Rotterdam Rules by Chen Shi and a case study analysis by Fok Ka Seng are also collected in the Journal.
One Country Two Systems Studies is available at the Public Information Centre, Starlight Bookstore (MPI Branch) and Plaza Cultural Macao at MOP50. The online version is available at the MPI official website and inquiries are welcomed. We look forward to receiving contributions from local researchers and overseas scholars via online submission at: RUPDS@ipm.edu.mo.
View gallery