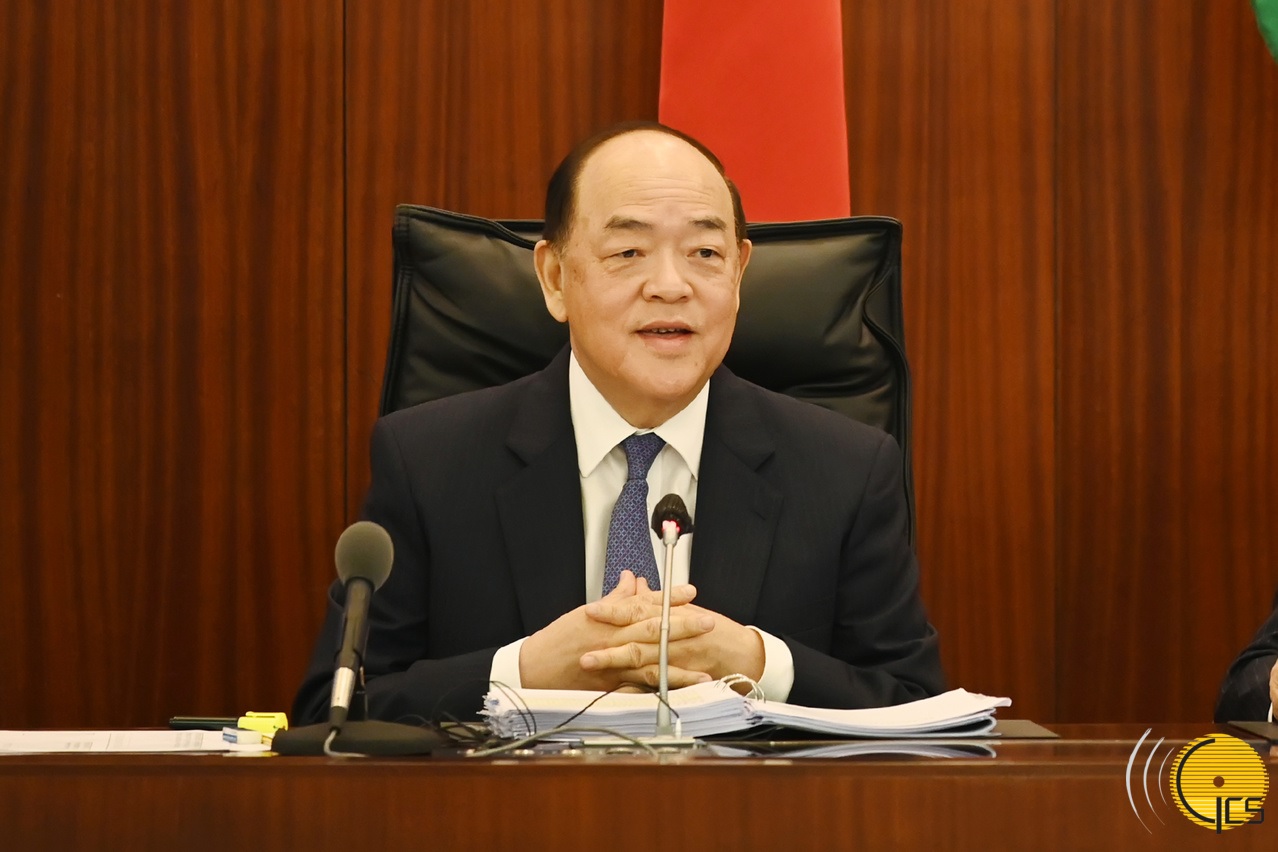 The Chief Executive, Mr Ho Iat Seng, attends a plenary session of the Legislative Assembly to answer questions raised by Assembly members concerning the Policy Address for the Fiscal Year 2020.
The Chief Executive, Mr Ho Iat Seng, said today the Government would complete – within its five-year tenure – the construction of a first phase of 3,000 Home-Ownership Scheme housing units planned in the New Urban Zone Area A.
Mr Ho detailed the Government's blueprint on public housing policy during a question-and-answer session of the Legislative Assembly to discuss the Government's Policy Address for the Fiscal Year 2020.
The Chief Executive explained his vision regarding a five-tier system for housing provision in Macao: public housing; Home-Ownership Scheme housing; "sandwich" class housing for middle-income families; housing for the elderly; and private-sector housing.
The Government had committed itself to solving the housing needs of low-income families. After years of endeavour, public housing estates – planned for respectively Tamagnini Barbosa, Mong Ha, Venceslau de Morais and New Urban Zone Area A – would provide enough social housing units to enable application processes for such housing to be opened on a regular basis.
Regarding Home-Ownership Scheme housing, detailed planning for the New Urban Zone Area A – such as the road network, utility network, and layout of public facilities – had been initiated, Mr Ho stated. The application process for Home-Ownership Scheme housing would be opened once an amendment bill regarding such accommodation had been passed by the Legislative Assembly, Mr Ho said.
The Government would initiate public consultation to define the housing needs of the middle-income "sandwich" class. A preliminary thought was that such accommodation might be drawn from the private market and at a cost higher than that of Home-Ownership Scheme housing.
Regarding housing for senior citizens, a current plan was to provide accommodation available for rent and equipped with passenger lifts. An area of Areia Preta Lot P on Macao peninsula involving some 2,000 units had been reserved for such housing.
The Chief Executive also talked about the Light Rapid Transit (LRT) system planning within the overall New Urban Zone Area A. Mr Ho said a city-wide public consultation about a line to serve the east of the city would be initiated by year-end. The eastern line would stretch from the Macau International Airport, via New Urban Zone Area E to New Urban Zone Area A, then to the Border Gate Checkpoint.
Mr Ho said the Government's view was that the eastern line would involve an element of underground construction. This would cost more but take up less surface space. The Government had applied to the Central Government for approval for land reclamation work near the Pearl Oriental area in the Northern District on Macao peninsula. Such a reclamation work was in order to expand the LRT so that it linked New Urban Zone Area A to the Border Gate Checkpoint.
In addition, the Government would accelerate construction of a Seac Pai Van spur line for the LRT and a line linking to Hengqin. The latter would go underwater via a tunnel to reach the new Hengqin Port and would, upon completion, connect to the country's high-speed rail network.
Mr Ho additionally spoke of the Government's determined effort on urban renewal work. The Government had been analysing public opinion gathered from a first phase of consultation. Further study was needed regarding the topic of what percentage of unit owners within a building would need to give assent before that building could be redeveloped.
Mr Ho also disclosed that an aggregate of 2,300 units in Areia Preta Lot P had been planned for interim housing and replacement housing to accommodate people during urban renewal elsewhere.
The Chief Executive added that he hoped construction for the 2,300 interim and replacement housing units would be completed within the current-term Government. He also mentioned legislation for urban renewal work would be carried out at the same time.
During today's question-and-answer session, the Chief Executive responded to queries from 31 Legislative Assembly members. Topics discussed included: Macao's urban development master plan; the city's Five-Year Development Plan; smart city development; management of Macao's waters; a residential project in Hengqin specifically for Macao people; talent development within the Guangdong-Hong Kong-Macao Greater Bay Area; and promotion effort regarding traditional Chinese medicine.
View gallery