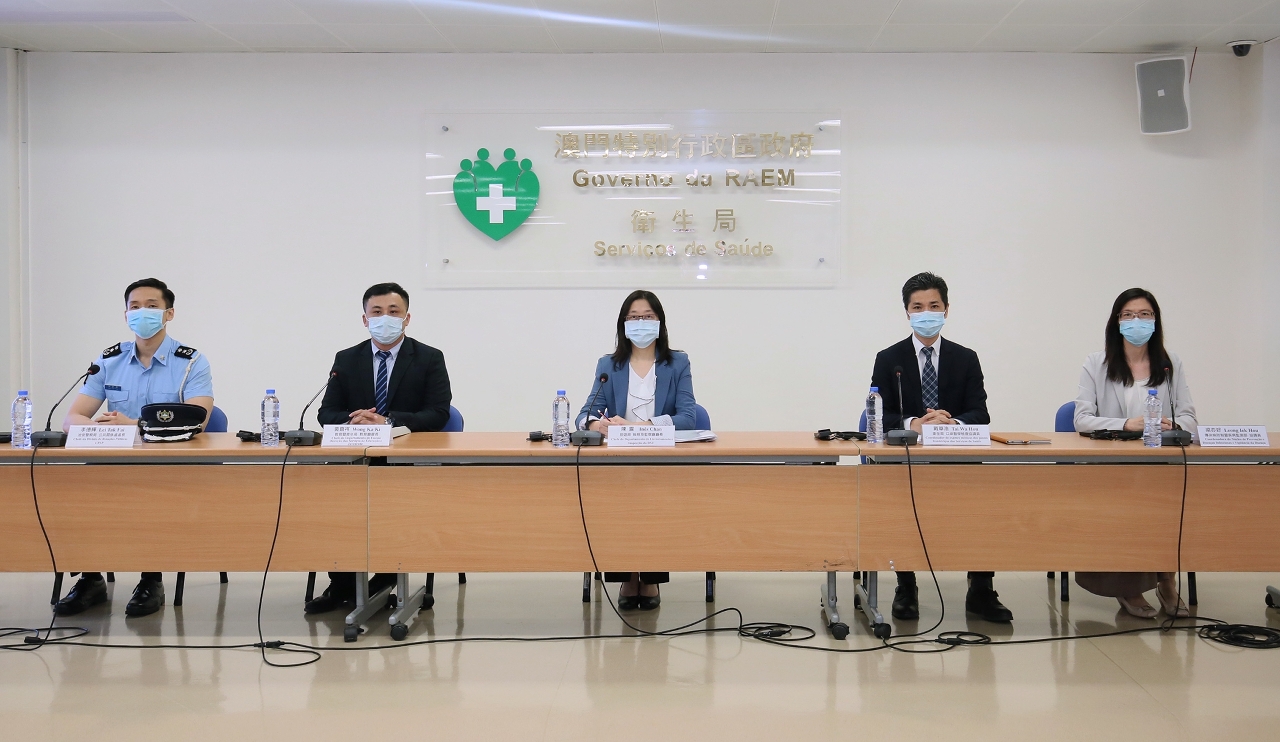 Press conference of the Novel Coronavirus Response and Coordination Centre.
The Government has today launched a new phase of a regular scheme enabling human nucleic acid testing that seeks to facilitate commuting by Macao ID holders that live either in Zhuhai or Zhongshan, and that wish to travel to and from Macao in order to attend either their workplace or school.
The move had been announced during the Wednesday (6 May) press conference held by the Novel Coronavirus Response and Coordination Centre. A Health Bureau official said the scheme sought to reduce further the risk of community-level spread of disease, in the light of entry-restriction measures in place in neighbouring cities, and that were applicable to Macao ID holders.
People wishing to undergo such tests must hold at the same time Macao ID cards, mainland travel permit for Hong Kong and Macao residents, and mainland resident permits. Approximately 15,000 Macao ID holders are covered by the new phase of the nucleic acid-testing scheme.
Those persons are entitled to receive a nucleic acid test every seven days. Results would be available within 24 hours of the sample being taken. The test results would be delivered to each individual via their unique health-status identification data as generated by the Government's self-declaration system. A negative test result, along with an up-to-date health declaration would facilitate those people's cross-boundary trips.
Nucleic acid tests are available for eligible Macao ID holders from 9am to 9pm daily at the Taipa Ferry Terminal, via prior appointment booked online at https://app.ssm.gov.mo/rnatestbook/. The first test is free, and subsequent tests cost 180 patacas each time. Charges are waived for students and teachers that are Macao ID holders but live across the boundary and come to Macao either to study or work.
As of Wednesday Macao had not recorded any new COVID-19 cases for 28 consecutive days.
On Wednesday another patient that had been treated for COVID-19 was released from hospital care after successful treatment in Macao. The man has now been placed under 14 days of post-recovery monitoring at the Public Health Clinical Centre in Coloane.
He is one of 40 patients that have already recovered from the disease after receiving treatment in Macao. There has been a total of 45 COVID-19 cases recorded in Macao.
The five patients remaining hospitalised were each described as being in a stable condition.
The Health Bureau has in place a hotline (+853 8893 4604) to support those with mental-health issues in the face of the COVID-19 pandemic. Members of the public may seek help via professional consultation at the following Health Centres: Tap Seac, Fai Chi Kei, Areia Preta, and Ilhe Verde on Macao peninsula; and Ocean Gardens and Nossa Senhora do Carmo – Lago, both on Taipa.
In view of developments regarding the COVID-19 pandemic and uncertainties wrought by the disease, the Health Bureau has issued the following advice with the aim of easing any anxiety and mental stress that might be experienced by members of the Macao public:
- understand that it is normal for people to have feelings such as either sadness, anxiety or fear when a crisis occurs and acknowledge it is best to try and accept and face these negative emotions;
- even if staying at home as a step to curb the disease from spreading, people should continue to follow a healthy lifestyle, i.e. maintain a balanced diet, do moderate exercise, get adequate sleep, refrain from smoking, limit alcohol consumption, and do their best to relax;
- keep in regular touch with family members and friends via telephone, email, social media, in order to talk and provide mutual support. Those with older relatives or friends who live alone, should make an effort to express care for them and to offer assistance;
- seek information on COVID-19 only from reliable sources: people should not place trust in unsubstantiated information, and take into account that news on the topic can often be positive; and
- develop habits valuing positive and optimistic thinking, and of gratitude for personal well-being. Be willing to try fresh approaches to facing emotional distress.
View gallery