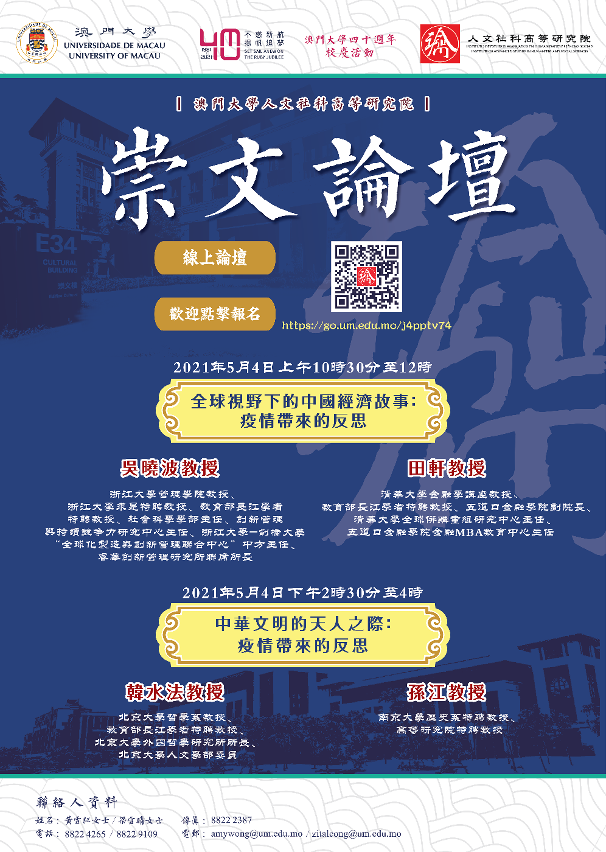 The first IAS Public Forum
The University of Macau (UM) Institute of Advanced Studies in Humanities and Social Sciences (IAS) will hold its first public forum on 4 May and its first annual conference from 5 May to 7 May. Scholars from China and abroad will be presenting online around three themes, namely China's economic story from a global perspective, reflections on the epidemic, and the conversation between arts and sciences.
The IAS Public Forum will be held online on 4 May from 10:00am to 4:00pm. Prof Wu Xiaobo of the School of Management at Zhejiang University, Prof Tian Xuan of the School of Finance at Tsinghua University, Prof Han Shuifa of the Department of Philosophy and Religious Studies at Peking University, and Prof Sun Jiang of the School of History at Nanjing University will be the keynote speakers. For online registration, please go to https://go.um.edu.mo/j4pptv74.
The first IAS Annual Conference will be held online from 5 May to 7 May, from 9:00am to 6:30pm, with the theme being 'Reflections across Disciplines: The China Story and Dialogue between Arts and Sciences'. In addition to the keynote address, there will be a panel discussion between academics from outside the university and resident academics of IAS. The event aims to provide a platform for academics from different professional backgrounds to exchange views on the topic. For online registration, please go to: https://go.um.edu.mo/2vd3rrk1
For more details about the events, please visit https://ias.um.edu.mo/. For enquiries, please call 8822 4265 or 8822 9109 or email to amywong@um.edu.mo/zitaleong@um.edu.mo.
View gallery