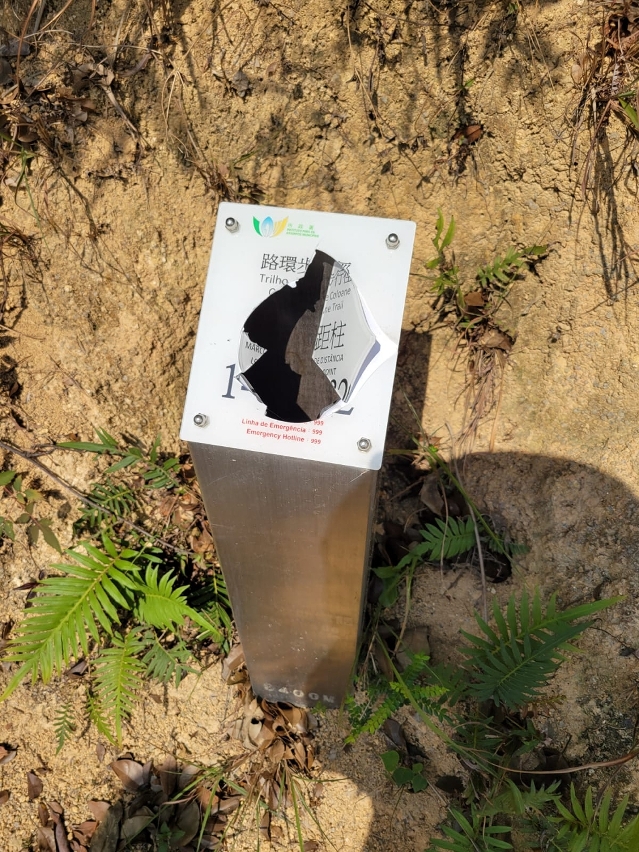 IAM calls on the public to protect facilities in hill forests and not to damage location distance posts
Hill forests in Macao are good places for public leisure, outings and being close to nature, and they are also the base for students to experience the conservation of natural ecology. In recent years, the Municipal Affairs Bureau (IAM) has established distance posts with panels that carry geographic information along the walking trails in hill forests. They serve as supplementary location facilities to safeguard the safety of hikers. IAM urges hikers not to damage them to avoid losing their rescue function.
IAM optimises the facilities in hill forests continuously. Name plates, map stands and various notice signs have been installed at the entrances to walking trails so as to allow hikers to have a clear understanding of the hiking routes, length as well as the rules and important points to observe. Moreover, the distance to the next location and other data have been added on the signs to provide hikers with the information and assist in positioning during search and rescue.
When the public have to identify their locations in the 14 walking trails in hill forests in Macao, with total length of about 37,000 metres, in addition to using electronic devices equipped with satellite positioning system, the distance posts installed along the trails are essential facilities to assist in positioning. On consideration of public safety, IAM has installed one stainless steel distance post every 200 metres along the walking trails. The number shown on the panel represents three emergency information respectively, which are the district, the walking trail and the distance, so as to identify the location clearly. If hikers need help in case of a hill fire or an accident, they only need to express the information on the distance post closest to their location, such as between 1-1-01 and 1-1-02, and the rescue personnel can narrow down or identify the area for search and rescue, with the aim of mobilising resources and conducting rescue work promptly.
However, during recent inspections, IAM found that multiple panels of distance posts had been damaged. While the location information cannot be read, the safety of hikers is affected indirectly. Therefore, IAM calls on the public to cherish public property and not to damage the panels of distance posts in hill forests. Furthermore, when going for an outing, the public are reminded not to abandon or leave garbage in hill forests. They should prevent hill fires and protect the natural environment, maintaining a pleasant environment for outings with mutual efforts.
View gallery