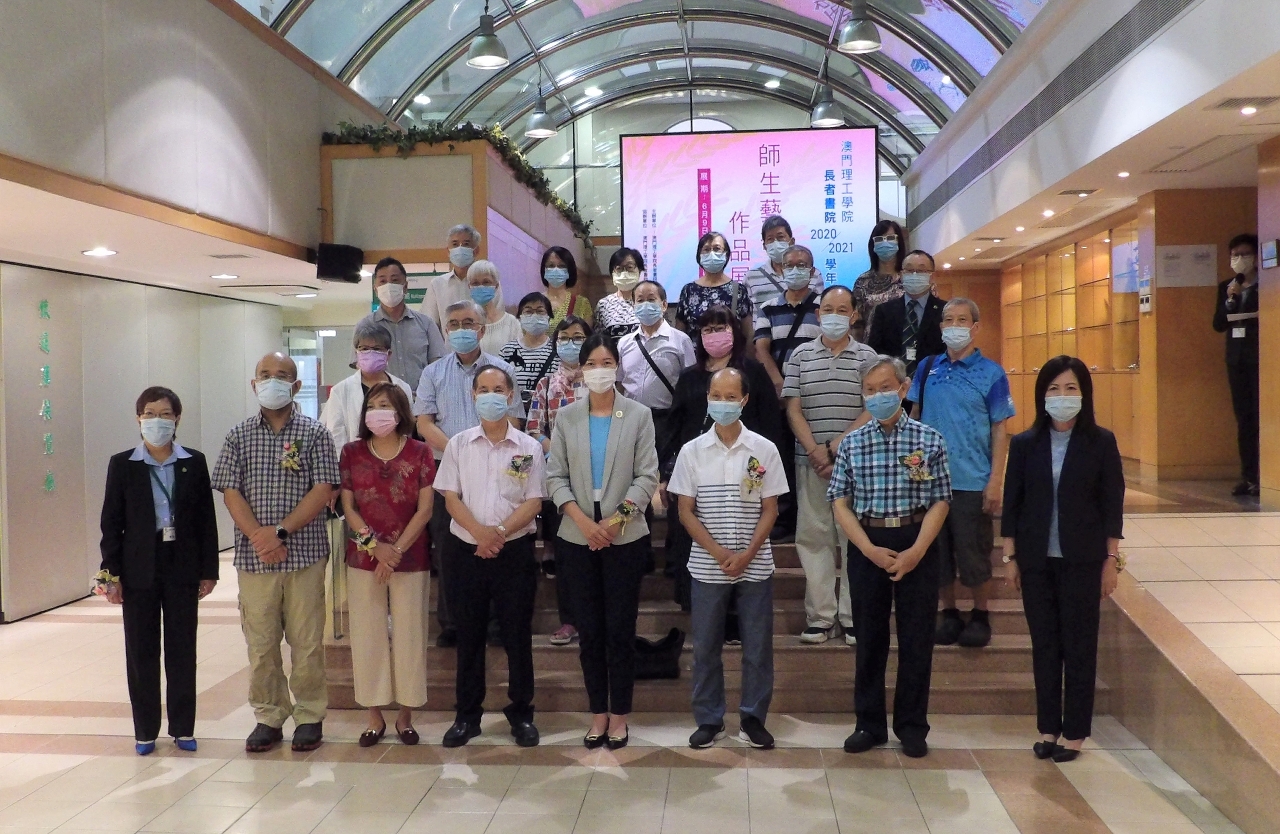 Group photo of officiating guests and students
Organized by the Student Union of MPI Seniors Academy, and co-organized by MPI Seniors Academy (ACS), the Opening of 2020/2021 Art Exhibition of MPI Seniors Academy Teachers and Students was held on 9 June 2021 at Lam Kan Exhibition Gallery of MPI. Many guests were invited to officiate, and the scene was lively.
Vice-President of MPI Dr. Lei Ngan Lin, Director of ACS Dr. Lam Wan Mei, Chinese painting teacher Mr. Kuan Kun Cheong, calligraphy teacher Mr. Lei Kam Wa, Western painting teacher Ms. Poon Cam Mei, seal cutting teacher Mr. Cho Sai Keung, digital photography teacher Mr. Chou Chong Seng and President of the ACS Student Union Ms. Lao Sio To were invited to officiate the opening ribbon-cutting ceremony of the exhibition.
During her speech, Dr. Lam Wan Mei firstly thanked all the ACS teachers who have helped students to organize this exhibition; she also thanked ACS Student Union for organizing and setting up this exhibition, as well as ACS students who actively participated and prepared the exhibited artworks. The artworks displayed at the exhibition are rich in content. Many of them portray Macao's world cultural heritage sites and well reflect the characteristics of Macao. Dr. Lam said that some students who participated in the exhibition are about to graduate; she hoped that they could continue their education and looked forward to seeing more of their artworks on other occasions in the future. Dr. Lam also showed gratitude to MPI for always supporting the work of ACS, and allowing ACS to hold this exhibition in a good and safe environment. President of the ACS Student Union Ms. Lao Sio To said that this exhibition aims to inspire students through observing and learning, activating their lasting interest in artistic creation and laying a good foundation for future learning.
A total of 85 pieces of Chinese painting, calligraphy, Western painting, seal cutting and digital photography and the artworks of 5 teachers are exhibited. The exhibition will be held on 9-15 June 2021.
View gallery