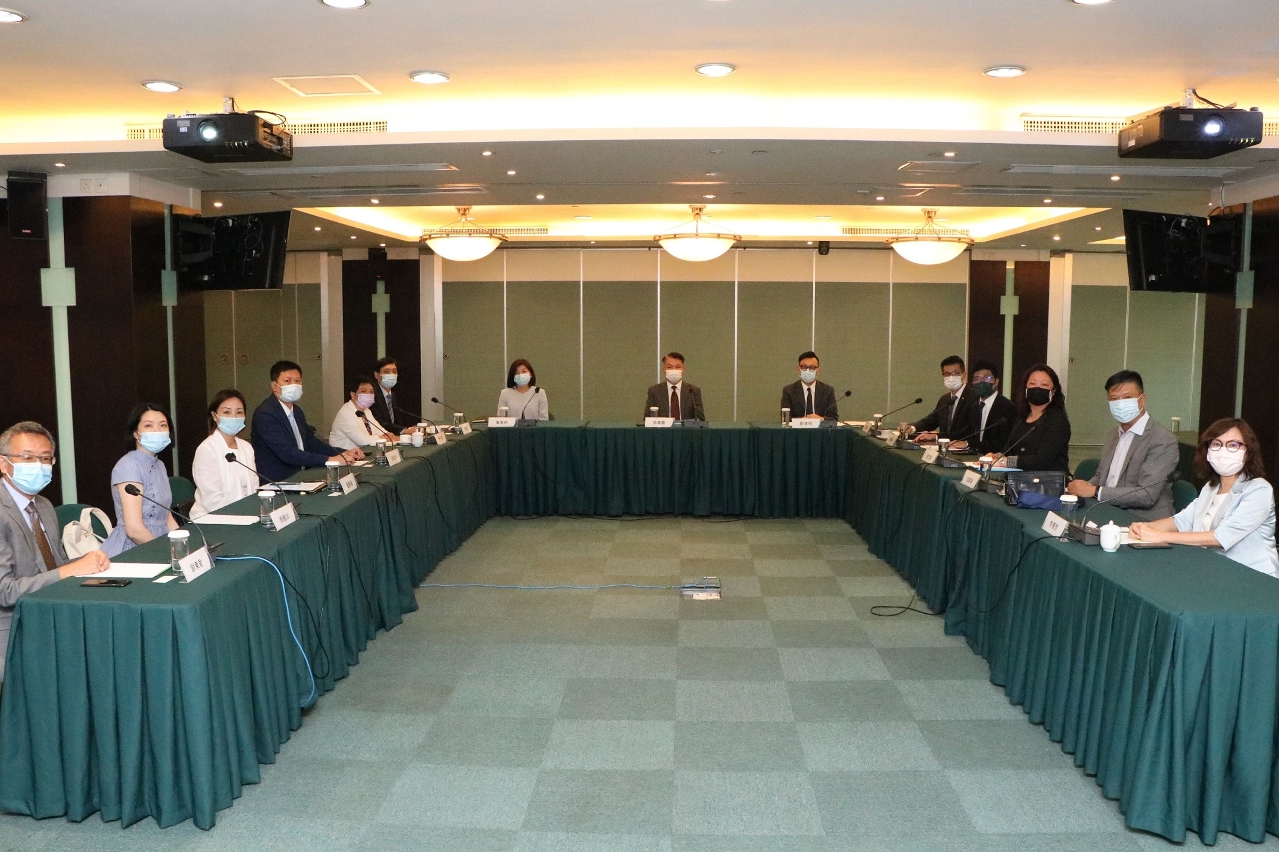 The Committee for the Development of Conventions and Exhibitions holds its first plenary ordinary meeting of 2021
The Committee for the Development of Conventions and Exhibitions (CDCE) held the "1st Plenary Ordinary Meeting 2021" at the Multi-functional Conference Hall of Macao Trade and Investment Promotion Institute (IPIM) on 15 June. During the meeting, in addition to introducing the preparation for and follow-up of large MICE events to be organised or co-organised by IPIM this year, IPIM also discussed with the committee members the co-operation between MICE and other industries, as well as MICE-related training programmes. IPIM also listened to opinions from the members regarding the development of the local MICE industry, hoping to promote economic recovery with the industry together.
The meeting was presided over by Lei Wai Nong, Chairman of the Committee and Secretary for Economy and Finance. He said that despite the pandemic outbreak, from the second half of 2020, the industry has gradually recovered and started holding various exhibitions with a new approach that integrates online and offline services as encouraged and promoted by the government. MICE practitioners were also able to strengthen their competitiveness through training programmes. It is believed that through the concerted efforts of the government and different sectors of society, as well as the synergistic effects of the integrated development of "tourism + MICE", the industry's recovery will be accelerated and the local consumption chain consisting of food, accommodation, transport, travel, shopping and entertainment will also be boosted, thereby facilitating Macao's moderate economic diversification.
Lau Wai Meng, Secretary General of the Committee and President of IPIM, indicated that a total of 68 conventions and exhibitions had been held in the first quarter of 2021, marking a year-on-year increase of 71.7% in the number of participants and visitors. Taking new trend of cross-industry integrated development into account, the MICE industry may consider promoting cross-industry co-operation with other industries. On one hand, the industry can implement MICE projects in line with the local industrial development orientation and develop them into thematic exhibitions for specific industries through convention and exhibition platforms; on the other hand, they can expand MICE co-operation projects by making use of the advantages brought by the Greater Bay Area, in a bid to jointly establish signature conventions and exhibitions, and take turns holding these events.
The participating committee members raised opinions regarding how to enhance the MICE sector's development and practitioners' competitiveness. Some suggested cultivating industries that are conducive to Macao's diverse development through MICE events hosted by the government, while some suggested launching measures or establishing a communication mechanism that enables the industry to obtain the latest arrangements for MICE events in time during the pandemic. Some members also hoped that while continuously running subsidised training courses for the MICE industry, the government can develop more internationally recognised training programmes, which would help the practitioners to "go global".
View gallery