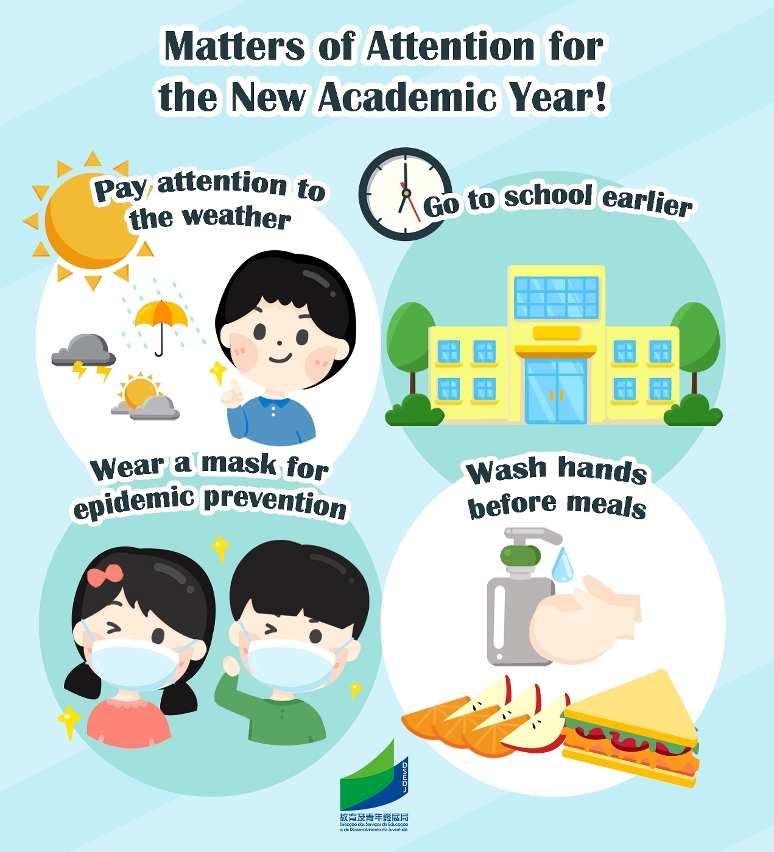 Matters of Attention for the New Academic Year 1
As the summer holiday is coming to an end, the Education and Youth Development Bureau (hereinafter referred to as the "DSEDJ") urges parents to prepare their children for school opening in advance, pay close attention to the latest epidemic information announced by the SAR Government, and take note of traffic and weather information.
The DSEDJ has already asked schools to make proper preparations for the new academic year by implementing school epidemic prevention measures strictly and maintaining a clean and hygienic school environment. In order to ensure a smooth start of the new academic year, the DSEDJ will assign staff to visit schools to learn about the situation on school opening day.
As it is expected that road traffic in Macao will be busy at the beginning of the new academic year, the DSEDJ has maintained a close communication with the Transport Bureau and other relevant departments, and has asked schools to make appropriate arrangements for students who are late due to unexpected traffic conditions. The DSEDJ urges parents and students to leave home early. If their children take the school bus, parents should learn about the pick-up time and route on school opening day from the school or school bus driver, and foster passenger safety awareness in their children.
As Macao is still in the rainstorm and typhoon season in September, parents and students are advised to pay close attention to weather information before going out. In order to ensure the safety of students, schools will keep their premises open during class suspension due to adverse weather, such as the issuance of red or black rainstorm warning signals, take care of students who have arrived at school and arrange appropriate educational activities for them, so parents need not rush to pick up their children from school. School will continue as usual when the yellow rainstorm warning signal is issued. Parents or students can decide the time to leave home according to the weather conditions. The school will not consider students late or absent from school, and will exercise discretion over the clothes worn by students according to the actual situation.
In accordance with the current requirements for crossing between Zhuhai and Macao, cross-border students and school staff are required to undergo nucleic acid test and hold a valid negative nucleic acid test result to cross the border. In the new academic year, the DSEDJ hopes to maintain good communication and work closely with schools and parents continuously, so as to jointly create a safe and pleasant learning environment for students.
View gallery