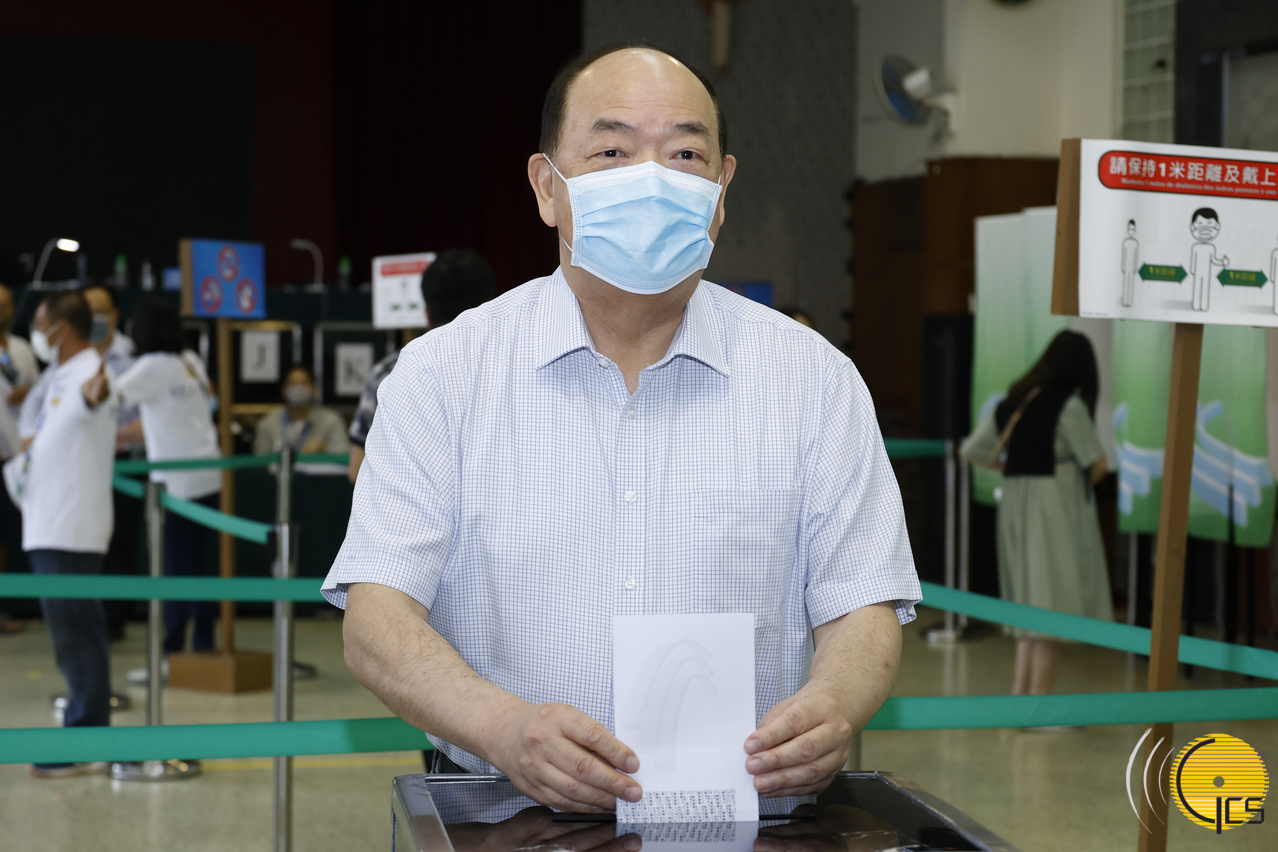 2021 Legislative Assembly Election: The Chief Executive, Mr Ho Iat Seng, casts his ballot.
The Chief Executive, Mr Ho Iat Seng, today called on all voters to exercise their right to vote. Registered voters should pay attention to anti-epidemic control measures when exercising their civic duty.
The Chief Executive made the appeal to voters after casting his own ballot at the polling station at Instituto Salesiano.
In a press briefing, Mr Ho said he understood perfectly the need to maintain good communication between the Government and the Legislative Assembly, as he had worked for a total of 10 years in the legislature as its member, vice president and then its president. The Legislative Assembly had the power – as vested through the Basic Law – to supervise the Government, he noted. Members of the Legislative Assembly were welcome to monitor the Government's work, and criticise any shortcomings, said the Chief Executive.
Mr Ho also talked about the criteria he would use to appoint some Legislative Assembly members, as set by the Basic Law. Only when the direct and indirect elections were concluded, would he be able to gain a better grasp of what sectors might be missing representation in the Legislative Assembly. The aim was to ensure every sector had its voice represented there, Mr Ho stated.
Mr Ho said he hoped the new-term members of the Legislative Assembly would spend sufficient time in studying the needs of the community, and in gaining consensus from the sector they respectively represented.
Today, a total of 37 polling stations set up across Macao will remain open until 9pm.
The Chairman of the Electoral Affairs Commission for the Legislative Assembly Election, Mr Tong Hio Fong, said the poll had so far proceeded in a generally smooth manner.
The voter turnout rate for the first hour of polling saw a 2 percent decrease from the same period in the 2017 election. The Electoral Affairs Commission had received, as of 10.30am, an aggregate of six cases of suspected violation of election rules. The cases, mainly concerning voters either taking photographs inside polling stations or using communication devices, were forwarded to the police for follow up.
Earlier in the morning, the Electoral Affairs Commission toured several polling stations to inspect preparations before the venues opened to voters at 9am.
The Commission Chairman urged all voters to exercise their right to vote, and to select their preferred ticket for representatives to sit in the Legislative Assembly.
Mr Tong also urged voters to pay attention to real-time updates on the number of people waiting at their assigned polling station. Such information would be available via the election website www.eal.gov.mo/votelocations and on TDM channels, seeking to help voters avoid peak hours at their assigned polling station.
View gallery