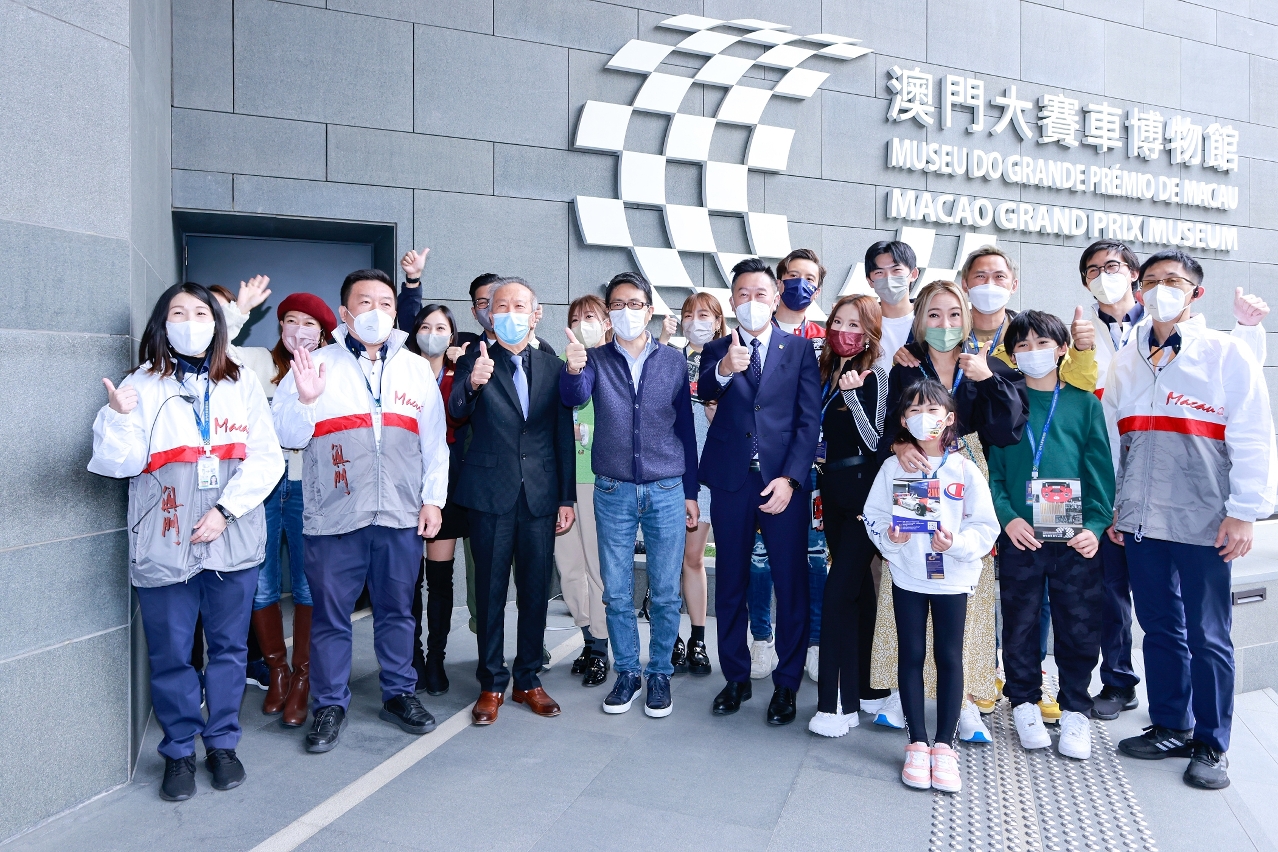 Hong Kong KOLs experience Macao Grand Prix Museum
【MGTO】MGTO promotes the destination and welcomes Hong Kong visitors to Macau on social media (Chinese version only)
In accord with the latest favorable border measures, Macao Government Tourism Office (MGTO) immediately activated its advance promotional plan tailored for Hong Kong as a tourist market. Ten KOLs from Hong Kong were invited to visit Macao on Sunday (8 January) for a trendy two-day fun trip, to experience the diverse fun of "tourism +" in Macao. Their visits will fuel destination marketing and spark Hong Kong residents' interest in choosing Macao as their top choice of destination.
KOLs promote the destination towards different market segments
Nowadays, visitors can often tap into the latest travel information online. Given this trend, MGTO has partnered with KOLs from different places in recent years, who would share first-hand travel tips with a touch of warmth and lead people from different market segments to explore Macao from their angles.
Riding on the golden opportunity brought by loosening of border measures for individuals coming from Hong Kong to Macao, MGTO arranged for ten Hong Kong KOLs from different backgrounds to embark upon a two-day trip in Macao on Sunday (8 January). The KOLs include TV and radio program hosts, actor, chef, yoga instructor, magician, singer and travel blogger. Some of the KOLS have tens of thousands of followers on Facebook and Instagram. KOLs are going on the trip in different combinations including lone traveler, couple and a family of five. The travel tips and itinerary suggestions they offer will cater to different market segments.
Explore diverse "tourism +" in different districts
Hong Kong KOLs arrived at Macao by land transport through the port at the Hong Kong-Zhuhai-Macao Bridge on Sunday morning and explored different districts in depth. Their itineraries covered visits to the Macao Grand Prix Museum, MinMPlaza, Anim'Arte Nam Van, the heart-shaped tree at the Macao Science Center and light decorations of Light up Macao 2022. They also tasted different signature delicacies in Macao as a UNESCO Creative City of Gastronomy. In addition, visits to tourist attractions are themed around the interest of young art enthusiasts, sport lovers/hotspot check-in, family and lovers, including the House of Macao Literature, Macao Science Center, Nossa Senhora Village of Ká Hó, Guia Hill Pedestrian Tunnel, Arraial na Taipa, ZIPCITY, TeamLab, trendy café and great places for check-in on social media. Some KOLs also explored Macao individually, visiting their preferred attractions and recommending to followers the good fun, food and places to go.
Boost Hong Kong residents' intention to visit Macao as top choice
Hong Kong is the second largest visitor market for Macao, with considerable advantages in terms of geographic location and attractiveness. Riding on recent loosening of border measures, MGTO held a virtual travel and exchange seminar for members of Hong Kong's and Macao's travel trade in Hong Kong in late December 2022 to give Hong Kong travel agencies an update on Macao's tourism information and facilitate industry networking between both cities. MGTO has also been forging ahead with a comprehensive series of marketing initiatives and special offers. KOLs are invited to Macao for a first-hand experience of "tourism +" elements, while members of the travel trade and pertinent associations from Hong Kong will be invited to Macao for face-to-face exchange with their counterparts in Macao, as a new networking platform is rebuilt for them. The Office actively gets prepared to welcome Hong Kong visitors and work for tourism revival between the two cities.
View gallery