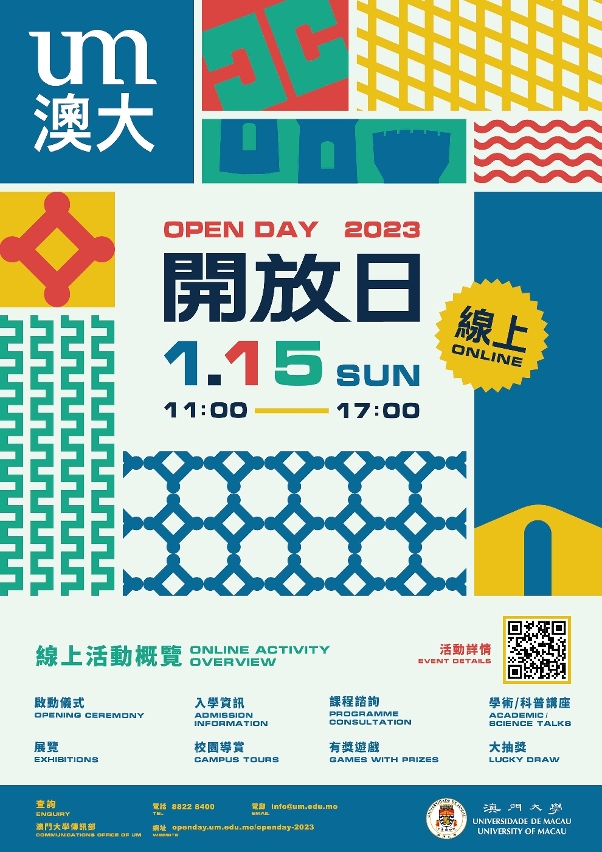 UM will hold an Open Day online on 15 January
The University of Macau (UM) will hold the UM Open Day 2023 online on Sunday 15 January. The event will provide an opportunity for students, their parents, and friends from Macao, other parts of China, and overseas to tour the UM campus anytime, anywhere, to learn about the latest admission information, academic characteristics, and research results of the university. Those who are interested can join the event by visiting the UM Open Day website from 11:00am on the day of the event.
Activities on the online Open Day will include an opening ceremony, admission talks, programme consultations, and academic/science talks. The various faculties, residential colleges, laboratories, and the university library will be presented virtually for visitors to experience university life at UM and learn about its teaching facilities and research environment. With over 30 live streaming events, the Open Day aims to showcase UM's various academic programmes, outstanding faculty, and international education setup. Students who plan to study at UM can take the opportunity to join the online programme consultations, where representatives from different departments will be available to answer questions and provide first-hand information on admissions and academic programmes.
The Open Day will also include online activities such as exhibitions, games with prizes, and campus tours. Those who have joined the activities will have a chance to win a souvenir and will enter the lucky draw for an Apple Watch. For more information, please visit the website of the UM Open Day 2023 at https://openday.um.edu.mo/en/openday-2023/, or subscribe to UM's official WeChat account 'UMacau1981' or Facebook page 'University of Macau'. For enquiries, please contact the Communications Office at 8822 8400 or info@um.edu.mo.
UM is an international public comprehensive university in Macao. With a multicultural campus and a system of whole-person education underpinned by faculties and residential colleges in an international education setup, the university has attracted students from all over the world. UM adopts a residential college system that is unique among all universities in Macao as a vehicle for implementing its '4-in-1' education model to nurture well-rounded students. In addition, UM has brought together outstanding faculty members and researchers from China and abroad to improve its quality of teaching and research. In terms of international reputation, the university is ranked 201-250 in the Times Higher Education World University Rankings, 5th in International Outlook, and is among the top 1 per cent in the Essential Science Indicators (ESI) in ten subjects. Through quality student-centred education, internationally influential research, and high-quality community service, UM is committed to producing creative and socially responsible graduates with a global mindset and international competitiveness.
Currently, UM offers over 100 degree programmes at bachelor's, master's, and doctoral levels in various fields, including literature, language, business administration, marketing, accounting, finance, international integrated resort management, science, education, biomedical science, law, history, economics, psychology, sociology, communication, engineering, computer science, and Chinese medical sciences. The application deadlines for UM's undergraduate programmes (admission exam) and postgraduate programmes are 18 January and 28 February 2023, respectively. For more information about admissions and applications, please visit https://www.um.edu.mo/study/.
View gallery