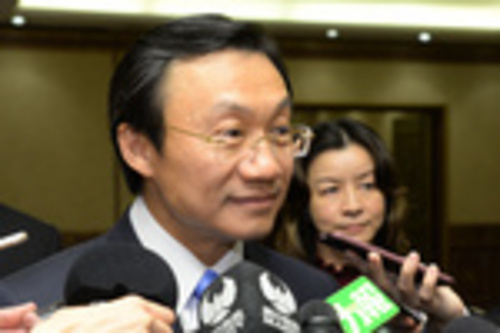 Government to launch outreach healthcare services for seniors by month-end
The Secretary for Social Affairs and Culture, Mr Tam Chon Weng, said the Government planned to start offering outreach healthcare services to senior citizens in need by month-end.
Doctors, nurses and pharmacists would be sent to Government-sponsored elderly homes, in order to provide healthcare services, Mr Tam told reporters on Tuesday (6 March), on the sidelines of a spring gathering hosted by the Social Welfare Bureau.
Mr Tam pointed out that the Government's efforts to provide support to the elderly and the quality of the city's medical services for senior citizens were widely recognised by the international community.
The Health Bureau and the Social Welfare Bureau would continue to work jointly to gradually expand the scope of the outreach healthcare services on offer to senior citizens, he added.
Providing support to the elderly, to children and to the physically challenged was a Government priority, Mr Tam stated. The Government would step up efforts to enhance elderly care services, he added.
A new health centre at Ilha Verde was scheduled to open later this year, Mr Tam said. In addition, the Government planned to expand the offer of elderly care services – including dementia care – at health centres across the city. A bill to protect the rights and interests of senior citizens was currently being reviewed by the Legislative Assembly and was likely to be voted later this year, he added.
Mr Tam noted that some local organisations were interested in offering elderly care services within the Guangdong-Hong Kong-Macao Greater Bay Area. He said cities neighbouring Macao – including Zhuhai, Zhongshan and Jiangmen – could be considered for such a scheme.
Whether a senior citizen decided to live in Macao or elsewhere would not impact their welfare rights and benefits, he stressed.
In other comments, the Secretary said the Government had received a number of opinions from the public on a protection and management plan for the Historic Centre of Macao.
Some of the opinions received expressed concern regarding the proposed delineation of a visual corridor to preserve the visual integrity of the Chapel of Our Lady of Penha, which would restrict urban development in Nam Van district and in a new area of reclaimed land near Nam Van district, known as Area B.
The Government would keep an open mind on the subject, and would continue to listen to different opinions and recommendations, Mr Tam said.
View gallery