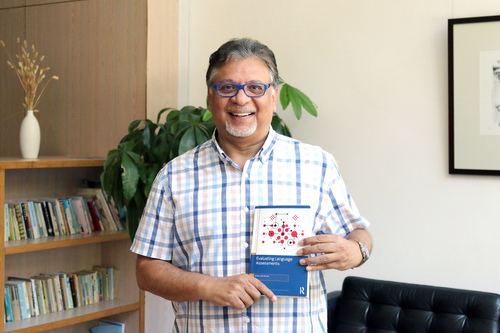 Antony John Kunnan has published a book on evaluating language assessments
Antony John Kunnan, Full Professor from the University of Macau (UM) Department of English, who is also the associate dean of UM's Faculty of Arts and Humanities (FAH), recently published a new book, titled 'Evaluating Language Assessment', through Routledge, the world's leading academic publisher in the field of humanities and social sciences.
The new book offers a comprehensive overview of the theoretical bases and research methodologies for the evaluation of language assessments and demonstrates the importance of a fuller understanding of this widely used evaluative tool. The book explores language assessment evaluation in its wider political, economic, social, legal, and ethical contexts while also illustrating quantitative and qualitative methods through discussions of key research studies. As this book makes a case for a clear and rigorous understanding of the theoretical and methodological underpinnings of language assessment evaluation in order to achieve fair assessments and just institutions, it is a book suitable for students of applied linguistics, second language acquisition, and language assessment and education.
The book has received many positive reviews. 'Kunnan's thoughtfully-grounded principles and wide-ranging illustrative examples will quickly become—and long endure as—the landmark reference for all discussions of fairness and justice in language testing. The book establishes an innovative, rigorous, and thorough conceptual framework to evaluate the actual uses of language assessments in society,' says Alister Cumming at the University of Toronto, Canada, and Beijing Foreign Studies University, China. 'This concise volume makes a timely contribution to the language assessment literature by building on Kunnan's concerns for fairness and justice. In a systematic way, he takes the reader through a process of justification that can lead to clearer thinking about the use of assessments and to fairer outcomes,' says Nick Saville at the University of Cambridge, United Kingdom. 'Fairness and justice, the two important qualities of any assessment and assessment practice, seem to be suspect in most if not all assessments. This volume shows how we can apply ethical thinking to address these issues in actual practice. Antony Kunnan provides theory, practice and research to put forward his compelling arguments that make the book a superb resource for everyone concerned with assessment,' says Rama Mathew at Delhi University, India.
Prof Kunnan joined UM in January 2016. He has held professorial positions previously at Nanyang Technological University, the University of Hong Kong, Tunghai University (as a Fulbright Professor), and the California State University, Los Angeles. His previous publications include a four-volume set titled 'The Companion to Language Assessment' (Wiley, 2014), a four -volume set titled 'Language Testing and Assessment' (Routledge, 2014) and 'Talking about language assessment' (Routledge 2014). Three of his books were published by Cambridge University Press. He was the founding editor of Language Assessment Quarterly, an SSCI journal. He is also the director of the Language Assessment Seminar Research Group and the group's website is: https://fah.umac.mo/laser/
View gallery