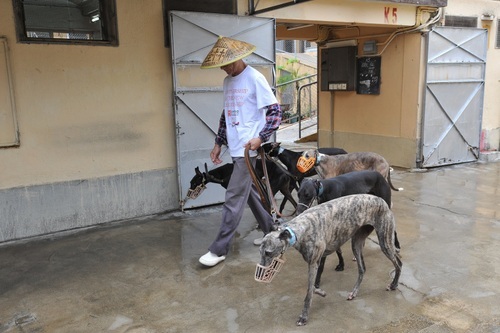 The health of retired greyhounds is being safeguarded, and their living conditions at the shuttered facility have been enhanced, all in line with Macao's Animal Protection Law.
The Government has been consistently optimising facilities at the former Canidrome's kennels, in order to provide better hygiene and better living conditions for the dogs. The animals are receiving appropriate support under the care of the Civic and Municipal Affairs Bureau, with assistance from the voluntary-sector body, Anima – Society for the Protection of Animals (Macau).
The Bureau invited media representatives to visit the now-closed Canidrome dog-racing track, in the Fai Chi Kei district, to help them gain a better understanding of the efforts being made regarding the welfare of the canine retirees.
The Bureau's veterinary team will continue to monitor closely the greyhounds and provide medical treatment if necessary.
Before any of the dogs can be adopted by third parties, the animals must be neutered. The Bureau has stressed that such a procedure is only ever conducted in safe and hygienic conditions.
The Civic and Municipal Affairs Bureau has stressed that it is not mandatory for all dogs to be neutered prior to the expiry of a 60-day grace period granted to the former facility's operator Macao (Yut Yuen) Canidrome to organise relocation of the greyhounds.
Macao (Yut Yuen) Canidrome is responsible for covering expenses arising from the sterilisation and vaccination programme organised by the Bureau.
As of Thursday (9 August) 12 dogs had been neutered, and were reported to be recuperating well.
The Government had also provided dental care to some 40 dogs that previously had poor dental health. Following respective treatment, they are reported to be recovering.
Since 21 July, the Government has been taking care of a total of 533 greyhound dogs left on site, when Macao (Yut Yuen) Canidrome staff quit the premises following the 20 July expiry of the company's greyhound-racing betting concession.
Last week the Government approved a time extension requested by the company, effectively giving it an additional 60 days to relocate the retired greyhounds. The firm was given a new deadline of 29 September to pursue its stated aim of rehousing the animals across an aggregate of 11 private properties.
View gallery