Flotante is a sensory installation for babies and toddlers, featuring hanging puppets and original music. Children are invited to immerse themselves into a new universe of beauty and fiction.
Ferns, moss and fog dominate the scene creating a magic atmosphere. Sea creatures and bright stars live side by side, inviting us to contemplate a wider sense of existence. Set to a field where balloons float at different heights and move throughout the space, children will play around while the performer will interact with them. Surrounded by sounds, floating puppets and colours, Flotante, where everything that happens is up in the air, stimulates children's imagination and perceptions to new forms of beauty.
Company Flotante creates extraordinary sensitive experiences and focuses mainly on the transformation of the playing space, the deep exploration of materials and the intertwining of artistic disciplines, allowing audience to travel to new universes.
Duration: Approximately 45 minutes, no interval
Remarks:
Two types of ticket are available:

Children Package (includes tickets for one kid and one adult): Suitable for children aged 6 to 24 months old, and 2 to 4 years old. Children must be accompanied by adults.
Observer Ticket: Suitable for audience aged 5 or above, to watch the performance in the designated area.

Audience in the "Parent-Child Area" will need to sit on the floor and are requested to take off their shoes before entering the area. Please put on casual wear and socks.
Original Idea and Direction: Azul Borenstein and Natalia Chami
Costume, Puppets and Space Design: Azul Borenstein
Performer: Natalia Chami / Yanina Orieta
Puppet Makers: Maria Virginia Pioli, Yanina Orieta and Maria de los Ángeles Marmolja
Music: Gaston Urioste
Light design: Agnese Lozupone
Management: Paz Begué, VERDEVER arts & wisdom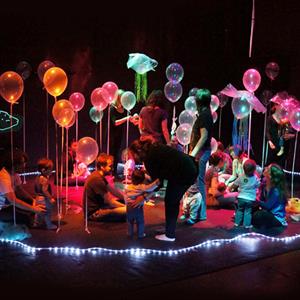 ---