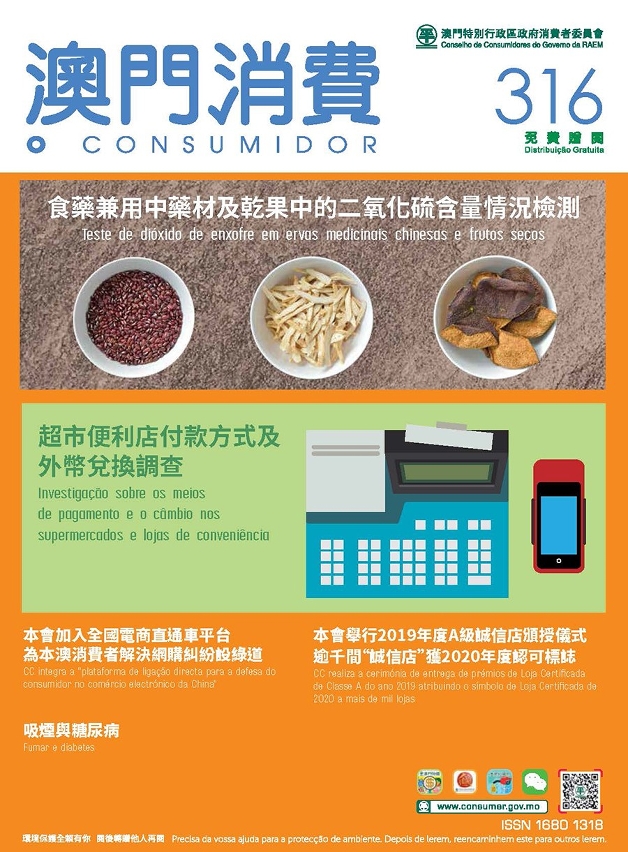 Consumer Report issue no. 316
Consumers may now choose to pay in cash, with credit card, electronic top-up card or other e-payment methods such as mobile banking when shopping. The Consumer Council sent out surveys to almost 180 supermarkets and convenience stores to know about their acceptance of different kinds of payment methods. The relevant survey result and other payment reminders can be found in the newly published no. 316 Consumer Report.
Electronic payment commonly accepted by shops
Among the 110 "Certified Shops", 10 "Adherents", and 56 ordinary shops surveyed by the Council, 96 percent of them accept more than one kind of electronic payment methods, it is also found that third-party electronic payment platform is more common than other payment methods.
Shops surveyed to see if exchange rate is included
It is common to see tourists making purchases with HKD or RMB, the survey result shows that shops usually accept payments in more than two currencies, but some shops are found to decline payment in RMB. In regard to the clarity of exchange rate, about 60 percent of shops, including 76 "Certified Shops", 6 "Certified Shops", and 31 ordinary shops are able to display clearly the exchange rate between local and foreign currencies at the shops. Since exchange rate is important to consumers when making choices, the Consumer Council urges all shops, including "Certified Shops" and "Adherents" to improve such situation to safeguard the rights of consumers.
The mentioned survey can now be found in the latest Consumer Report, other attention tips including confirmation of money transfer and safety when using mobile payments are also included.
Chinese medicines tested for contents of sulphur dioxide
The Consumer Council and the Food Safety Department of Municipal Affairs Bureau (IAM) worked together and tested 20 kinds of Chinese medicines and dried fruits brought from Chinese medicines stores and frozen meat stores, etc. for their contents of sulphur dioxide; tested products include those labeled to be originated from USA, China, and Thailand, etc. The test result shows that sulphur dioxide in all samples did not exceed the testing standard, excessive intake of Sulphur dioxide by the human body may lead to vomiting, diarrhea or other sicknesses.
Green channel set up to solve online shopping dispute happened in the Mainland
The Council joined the national e-commerce online direct platform set up by China Consumers Association (CCA) in late 2019, Macao consumers are now able to resolve consumer dispute arises between them and over 20 e-commerce traders on the platform directly and quickly through this green channel. A feature on the operation of the platform and how to use it is now included in no. 316 Consumer Report.
Consumers may access the magazine online on the Council's official website and WeChat official account. Consumer Report is now also available free of charge at the Council (Av. Horta e Costa, N.º 26, Edf. Clementina Ho), and the service counter of the Council at Macao SAR Government Service Centre (Rua Nova da Areia Preta, Nº52), Public Information Centre at Vicky Plaza, libraries, and bookstores.
View gallery