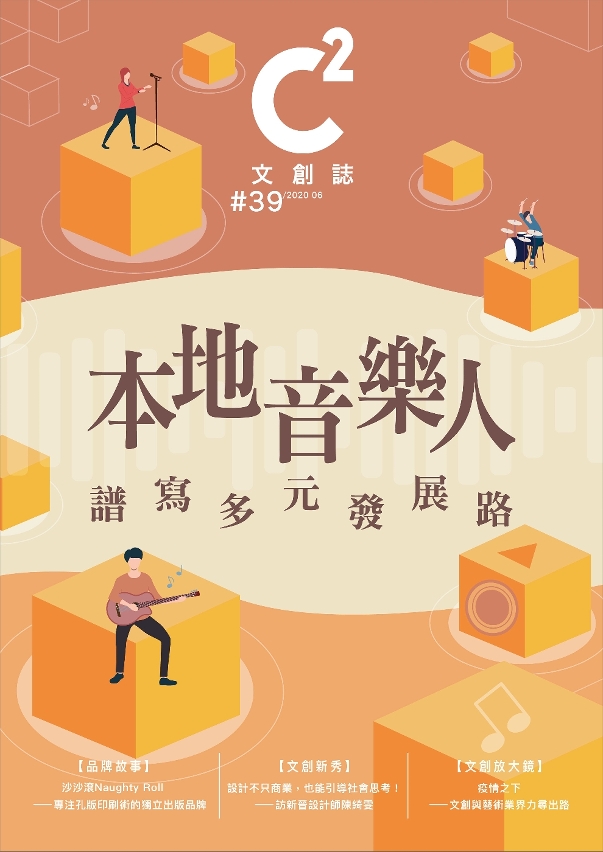 The 39th issue of C2
Published by the Cultural Affairs Bureau and produced by Like Entertainment & Production Co. Ltd., the thirty-ninth issue of C2 will be launched this Wednesday (3 June).
In recent years, the way music is consumed in the music industry has changed drastically in Asia and even around the world, which has led the artists to make changes in terms of work patterns and methods of creation, in order to keep up with the trends. In the "Feature" section, representatives from three Macao music groups, including Vivian Chan, MFM and Pun Kuan Pou, are invited to share the current developments in recent years and discuss the principle of survival of Macao artists in the changing dynamic of the current music industry.
Risograph is a kind of printing technique popular in the design sector in recent years, suitable for small workshops. In addition to offering a low printing cost, risographs also create many special effects that traditional printers cannot achieve. In the "Brand Story" section, three co-founders of "Naughty Roll" share the charm of products printed by risograph. The graduation project of local emerging graphic designer Suzy Chan, was selected as the Project of the Year by the British site It's Nice That, a website focusing on creative designs. In the "Budding Talents" section, Suzy Chan shares her learning and work experience in the design industry. The novel coronavirus pandemic brings challenges to both artistic and creative industries. The "Close-up" section summarizes how certain global famous platforms of the referred industries responded to the public's demand during the pandemic. Two local artistic and creative entities, Hiu Kok Drama Association and O-Moon, share their responses against the challenges brought by the pandemic. In the "Blogs" section, seven columnists, namely Lo Che Ying, Tracy Choi, Lam Sio Man, Un Sio San, Ron Lam, Yap Seow Choong and Johnny Tam, share their unique perspectives on the development of the cultural and creative industries.
C2 is an online trilingual magazine (in Chinese, Portuguese and English). Readers are welcome to browse or download the magazine at www.c2magazine.mo. For the latest updates, you may also visit the magazine's page on Facebook at www.facebook.com/c2magazine.macau, or stay tuned on WeChat, by clicking "official accounts" and inputting "c2_magazine" in the ID field. For enquiries, please email to c2magazine.macau@gmail.com.
View gallery