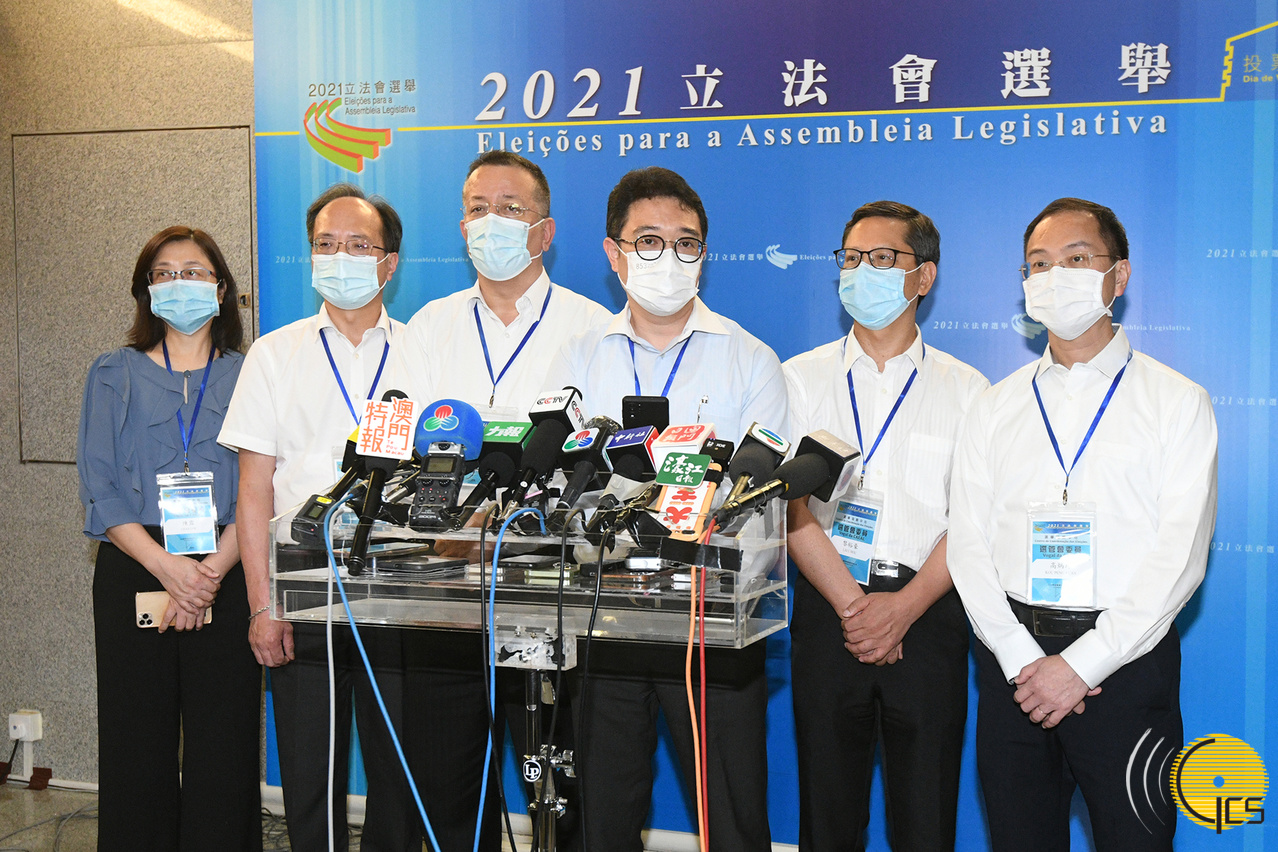 2021 Legislative Assembly Election: The Chairman of the Electoral Affairs Commission for the Legislative Assembly Election, Mr Tong Hio Fong, holds a press briefing after voting closed at 9pm, to wrap up election day situation.
The Electoral Affairs Commission for the Legislative Assembly said the 2021 poll went smoothly overall. Vote counting procedures would be completed at the earliest possible opportunity.
At a briefing after the poll closed at 9pm on Sunday (12 September), the Commission Chairman, Mr Tong Hio Fong, said voting had been successfully completed against the unprecedented circumstances of the COVID-19 pandemic. He expressed gratitude to voters for showing support for the electoral arrangements, and for being cooperative regarding anti-epidemic measures at the polling stations.
Preliminary data indicated 137,281 ballots had been cast for the direct election, representing a voter turnout rate of 42.38 percent, said Mr Tong.
For the indirect election, a total of 7,000 votes had been cast, representing a voting percentage of 87.33 percent, he added.
The Electoral Affairs Commission said there were several factors that might have had an impact on the voter turnout rate. One was travel restrictions due to the COVID-19 pandemic, as a great number of Macao ID holders who might be in either mainland China, Hong Kong or Taiwan, might have experienced difficulties in returning to the city for the poll.
In addition, the very hot weather on Sunday and the occurrence of thunderstorms might also have had an impact on voters' desire to cast their ballot.
Mr Tong said the Electoral Affairs Commission had identified on Sunday a total of 44 cases of possible violation of the Legislative Assembly Election Law, including: 11 reported instances of voters taking photographs of ballot papers; 26 cases allegedly involving the use of a mobile phone in a polling area; six instances allegedly concerning campaigning effort; and one case concerning a voter making public – via an online platform – their voting intentions within 100 metres of a polling station.
View gallery