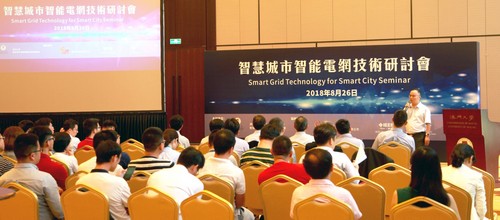 UM holds a seminar on smart grid technologies for smart cities
The University of Macau (UM) State Key Laboratory of Internet of Things for Smart City recently held a seminar on smart grid technologies for smart cities. This is the first event organised by the lab since UM received approval from the central government to establish the lab. The event received assistance from Companhia de Electricidade de Macau (CEM), the Institute of Electrical and Electronics Engineers (IEEE) of Macau, and the IEEE Macau Power and Energy Society/Power Electronics Society Joint Chapter. Experts and scholars from Macao, mainland China, and overseas attended the seminar and discussed the latest developments of technologies in sustainable energy, energy internet, electricity market, and smart grid equipment dispatch.
In his speech, UM Rector Yonghua Song said that China's rapid urbanisation created problems in transport, environment, and public security. The problems need to be addressed by the government and all sectors of society, with policies and technology, in order to achieve smart city development. He added that the development of technologies in the fields of information and communications, computer technology, big data, artificial intelligence, and the Internet of Things help to provide solutions to problems in urban development. One of the basic goals of smart city technologies is to first create intelligent perception in all aspects of urban life, and then form a network and develop an urban big data system.
Rector Songs added that UM received approval from the Ministry of Science and Technology in July this year to establish China's first state key lab in the Internet of Things for smart cities. The lab will further enhance the quality of research in this field and will identify scientific and technical hurdles in the development of smart cities and the Internet of Things, in order to develop basic theories, algorithms, and systems that share commonalities. The lab will focus its efforts on five areas, namely sensory information and communications system and network safety, urban big data and smart technologies, smart energy, smart transport based on the Internet of Things, and urban public security and emergency management. UM aims to develop the lab into an internationally leading institute with more than 40 academic and administrative staff as well as over 100 researchers within the next three to five years. The lab will increase collaboration and exchange with companies in Macao, higher education institutions in the Greater Bay Area, as well as experts from around the world, in order to provide technical support in smart city development for Macao, the Greater Bay Area, and China.
Nine experts gave keynote speeches on the latest developments in their respective fields. They are Prof Yan Jinyue from the Royal Institute of Technology and Malardalen University in Sweden; UM Associate Professor Wong Man Chung; Evan Liu, senior manager of CEM's Power and Networks Dispatch Department; Hu Zechun and Lin Jin, associate professors from Tsinghua University; Prof Ding Yi and researcher Wan Can from Zhejiang University; as well as Prof Liu Junyong and Prof Liu Jichun from Sichuan University. During the seminar, the speakers, participating scholars, engineers, and students discussed the applications of, and research on, smart grid technologies for smart cities.
View gallery