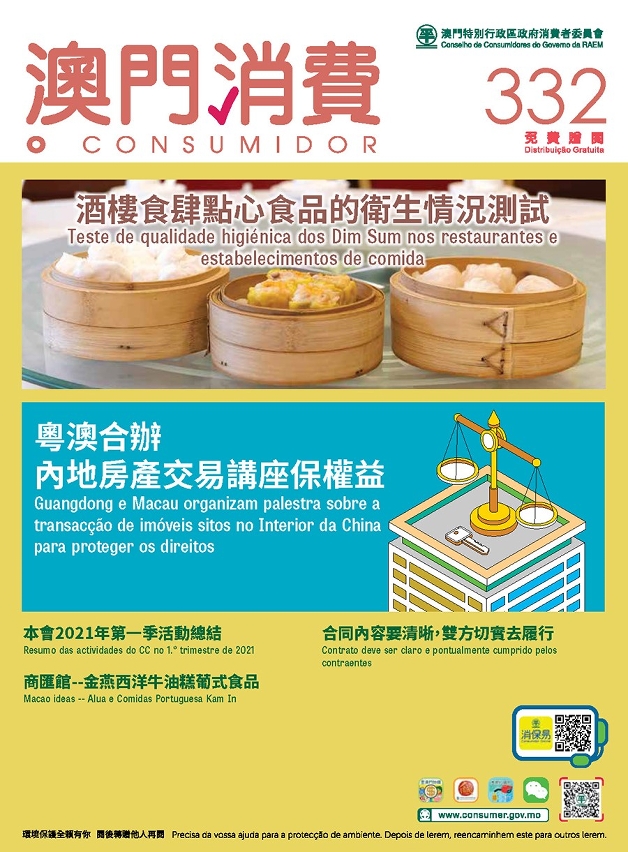 Consumer Report issue no. 332
A report on testing 60 Chinese dim sum samples for their hygienic condition and ingredients is now published in the latest issue of Consumer Report; a "Consumer alert" on the importance of setting up a contract for consumption transaction is also available.
In order to safeguard consumers' safety and establish healthy eating habits, the Consumer Council and Municipal Affairs Bureau (IAM) collected 60 samples of dim sum, including siu mai, shrimp dumpling and cha siu bao, from 20 food outlets and tested their hygienic condition and ingredients.
The test was conducted in accordance with several national safety standards, hygienic condition of all samples tested were satisfactory, and no Staphylococcus aureus nor Salmonella was found in all those samples.
Cha siu bao contains high sugar and calories
Siu mai, shrimp dumpling and cha siu bao are the most common dim sum chosen by consumers, test result shows that for every 100g of dim sum consumed, the total intake of sodium, fat and total sugar contents tend to be high. Further, chao siu bao with sauces contains higher contents of sugar and calories than the other two types of dim sum.
Establish "3 Low 1 High" diet
Too much intake of sodium, fat or sugar are harmful to health, for example, too much intake of sodium leads to stroke and cardiovascular disease; too much fat causes obesity and greater risk of all types of chronic disease; too much sugar increases the chances of getting diabetes. Consumers are suggested to consumer dim sum products moderately and adopt the "3 Low 1 High" diet.
The latest issue of Consumer Report covers the detailed report on the testing of 60 dim sum samples, significant differences in the amount of sodium, fat, sugar, and calories contents are shown in the report.
Contract safeguards consumer rights
A "Consumer alert" in available in the current issue of Consumer Report, presenting an example of increase in price of a car after the contract is concluded. In accordance with the Civil Code, the consumer has the right to refuse price changes made by the other party, the contract is an important evidence of safeguarding both parties in a transaction and neither party can change the contents of the contract once it is concluded. Both parties of a transaction are reminded that they must fulfil their promises in the contract.
The latest magazine also covers a feature on a forum held by the Council on the real estate laws of the Mainland. Representatives from Guangdong Province Consumer Council introduced the regulations regarding real estate in the mainland in details and offered tips to local citizens for purchasing properties in the Mainland.
Consumers may access the magazine on the Council's official website and WeChat official account. Consumer Report is also available free of charge at the Council (Av. Horta e Costa, N.º 26, Edf. Clementina Ho), and the service counter of the Council at Macao SAR Government Service Centre (Rua Nova da Areia Preta, Nº52), Public Information Centre at Vicky Plaza, libraries, and bookstores.
For enquiry, please call 8988 9315.
View gallery